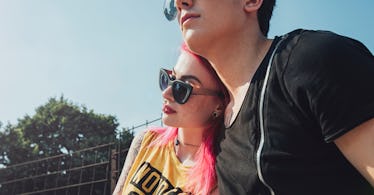 3 Queer Women Share How They Came Out To Guys Who Thought They Were Straight
There's this misconception that exists about being queer; it suggests that once you come out, you're done telling people you're not straight. That isn't true. Because assumed straightness is a thing, when you meet new people and if they think you're straight, you may want to tell them otherwise. Times where this comes up often? Dating. People you're dating (or interested in dating) only know what you tell them, or what they can glean from a quick Google search. For women who have had to have that conversation in particular, I took to social media to find out how queer women share how they come out when dating.
After getting out of a four-year relationship with a guy, coming out, and then beginning to date, I've realized that the coming-out process is constant, especially in the dating world. Because I usually don't mark my dating profiles with declarations of my queerness (my bio usually contains something short 'n snarky), going out with guys sometimes can lead to an awkward feeling of debating whether to tell them I'm queer or not (or whether I even owe it to them to).
Recently, a guy I went out with found out I'm queer from an article I wrote, and proceeded to ask me really thoughtful questions about it. One of the benefits of being a writer on the internet: sometimes, my writing has the awkward conversations for me. It was nice to see the reaction to my queerness from a straight dude not be centered around some threesome fantasy. I like when people treat me like a human!
To see how other women on the LBGTQ+ spectrum deal with coming out to guys they're dating, or have dated in the past, I sought answers on social media. Here's what some had to say.