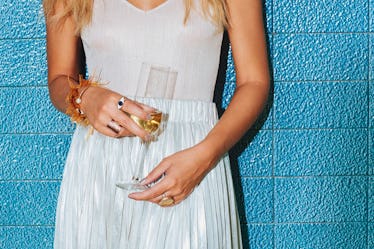 The Secret Benefits Of Your Favorite Bubbly Make National Prosecco Day Even Sweeter
Summer might be coming to a close, but do your body a favor and pump the breaks on sipping those PSLs until at least the ~official~ first day of fall on Sept. 21, friends. Sure, you might be well over the summer humidity by now (same), but keep in mind that a change in season ultimately leads to a switch-up of spirits and, personally, I'm not ready to say goodbye to prosecco just yet — and TBH, neither is your anatomy. According to a press release sent to Elite Daily, there are hidden benefits to prosecco that you definitely aren't aware of, all of which pertain to your health. So raise a glass and pinkies up, ladies, because another round of this sparkling white wine is bound to do wonders for your body. I know I'll cheers to that.
Can you believe it wasn't until my mid-20s that I fell in love with wine? I'm still warming up to the occasional glass of merlot, but clearly red isn't the only kind of wine loaded with health benefits, so I'll just keep on sippin' on my favorite white spritzers, thank you very much. Still, this isn't to say white is better than red — they each boast their own benefits — but prosecco specifically offers a wide range of hidden benefits you're going to want to reap, from sharpening your memory to keeping your skin acne-free.
So in honor of National Prosecco Day on Aug. 13, 2018, here are a few hidden benefits of your favorite bubbly to drink to now before the summer is over.