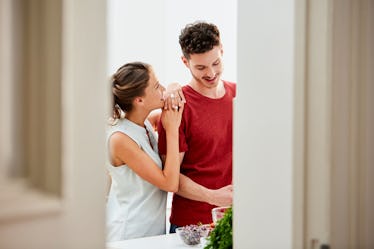 3 Thanksgiving Desserts That Happen To Be Aphrodisiacs, In Case You're With Bae
If you're like me, you always save room for dessert, and Thanksgiving is no exception. Whether you have a strong sweet tooth or not, ending a meal with a lil sugar just seems right. Speaking of sugar — if you're spending Turkey Day with your partner this year, consider trying some of these aphrodisiac dessert recipes for Thanksgiving! Who knows? Maybe instead of napping on the couch post-dinner, you'll be burning off some calories in the bedroom!
An aphrodisiac is a food that, when consumed, can increase your libido by releasing certain chemicals, increasing circulation, and heightening your sexual senses. When you think of desserts that function as aphrodisiacs, you probably think of chocolate-covered strawberries, sweet red wine, and more chocolate. Those are the classics, the greatest hits album of aphrodisiac sweets, but there are so many other ways to explore sex-boosting sweet treats.
While multitasking and cooking a yummy Thanksgiving dinner might stress you out, consider reframing it in your mind as an opportunity to spend time with your partner, create something together, and work as a team. And you can always indulge in a glass of red wine as you go, getting started on those aphrodisiac effects early.