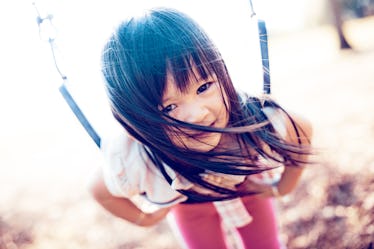 29 Captions For Baby Pictures Of Yourself That'll Bring On The Nostalgia
No matter what anyone else might think, you were definitely the cutest baby you've ever seen.
Whenever I go back to my parents' house, nostalgia hits and one of my favorite things to do is look at old family photos. I always find some gems of me and my siblings playing, some iconic first-day-of-school pics (the ones with braces and pigtails were real cute), and, of course, adorable baby pics. If you're sitting on cute snaps that you're ready to share with the world, I've compiled a list of Instagram captions for baby pictures of yourself that'll make for a quality #TBT post.
Throwback pics are a great way to celebrate how far you've come, admire what you were like before, and see how those two are the same. I'm always amazed when I look at old pictures of myself, because I think I look exactly the same. I make the same faces, I smile the same way, and you can tell how cocky I was just by the way I was standing in the pictures.
No matter what anyone else might think, you were definitely the cutest baby you've ever seen — and your mom probably agrees with you, too. (Don't tell your siblings, though.) It would be such a shame if your friends now didn't get to see what you looked like as a baby, so of course you have to share the photos.
So, what are you waiting for? Round up some of your favorite, most adorable (or embarrassing) baby pics and get to posting.
1. "I just got there and I was already awesome."
2. "I always knew I was destined for greatness." — Oprah Winfrey
3. "From small beginnings come great things."
4. "I was cute, but I somehow got even cuter."
5. "Nobody puts baby in a corner." — Johnny Castle, Dirty Dancing
6. "Some things never change."
7. "Still discovering the world."
8. "Play, laugh, grow."
9. "Baby photos aren't embarrassing when you were awesome from the womb."
10. "You mean to tell me that the fate of the universe is placed in the hands of these children?" — Power Rangers
11. "She's a throwback."
12. "I love those random memories that make me smile no matter what is going on in my life right now."
13. "Take me away to better days." — Natasha Bedingfield, "Pocketful of Sunshine"
14. "I'll take a one-way ticket back to the '90s, please."
15. "Sicker than your average." — The Notorious B.I.G., "Hypnotize"
16. "There's something about childhood friends that you just can't replace." — Lisa Whelchel
17. "Dear Past, thank you for all the lessons. Dear Future, I am ready."
18. "Remember when we were kids and we wanted to grow up? What were we thinking?"
19. "Isn't it funny how day by day nothing changes, but when you look back everything is different?" — C.S. Lewis
20. "Remember who you are." — Mufasa, The Lion King
21. "Started from the bottom now I'm older and not as adorable."
22. "Why did we grow up?"
23. "BRB, time-traveling back to this pic."
24. "Always have old memories and young hopes." — Arsene Houssaye
25. "Yesterday is but today's memory, and tomorrow is today's dream." — Kahlil Gibran
26. "Memory is a way of holding onto the things you love, the things you are, the things you never want to lose." — The Wonder Years
27. "There is a place in every childhood, an enchanted place where colors are brighter, the air softer, and the morning more fragrant than ever again." — Elizabeth Lawrence
28. "One is always at home in one's past." — Vladimir Nabokov
29. "I won't grow up." — Peter Pan
This article was originally published on