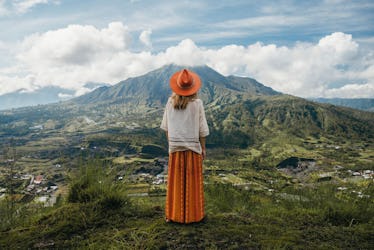 29 Captions To Give Thanks For Traveling, Because It's One Of The Greatest Gifts Ever
Thanksgiving is right around the corner, and you're already counting your blessings. It can be so easy to get consumed by life's daily demands, but it's always important to take a step back and shine a spotlight on all of the things you're thankful for in life. The holiday season might mean you're reuniting with your home friends for lots of laughs and pumpkin pie, or your true traveler self is jetting off on a getaway with the family. It's prime time to express some gratitude. Use these captions to give thanks for traveling, because I think we can agree that it's literally one of the most fulfilling experiences.
It seems like everyone has been bit by the travel bug lately. People are taking trips to dreamy corners of the world, and Instagram feeds are full of #wanderlust, because let's face it: Travel is pretty magical. There's something about visiting a place that you've never been to before and bonding with new people.
In my opinion, there's nothing better than stepping outside of your comfort zone and trying new things. Travel allows you to see yourself, other people, and the world in a different light. There's no doubt that travel is totally having its moment, but it's easy to see why everyone's here for it.
If you're so thankful for all of the adventures you've been on thus far, and places you're looking forward to exploring next, these captions will showcase your feels.
1. "Grateful for the places I've been and the faces I've seen."
2. "The only thing I like better than talking about food is eating." — John Waters
3. "I can't imagine life without my passport."
4. "Grateful for this #view."
5. "Feeling blessed about these stamps."
6. "I'm thankful for this world, so I travel."
7. "Eat, travel, and be thankful."
8. "Blessed and travel-obsessed."
9. "Gratitude makes everything better, including travel."
10. "Grateful. Bags checked. Travel-obsessed."
11. "Thankful for every new adventure."
12. "Take your luggage and leave your baggage behind."
13. "Bon voyage!"
14. "Think I overpacked a bit."
15. "Catch flights, not feelings."
16. "Grateful for every adventure with you."
17. "I'm thankful to have a family that takes vacation as seriously as I do."
18. "Do not disturb us — we're busy traveling."
19. "Life is about family, friends, and fun."
20. "Home is where the heart is, but I'm thankful for the chance to discover new places."
21. "Let's jump on a plane and discuss everything that makes us happy."
22. "The best things in life are free, and these memories are priceless."
23. "If the only prayer you ever say in your entire life is thank you, it will be enough." — Meister Eckhart
24. "Be present in all things and thankful for all things." — Maya Angelou
25. "We should certainly count our blessings, but we should also make our blessings count." — Neal A. Maxwell
26. "Blessed to be tasting Turkey and traveling."
27. "Family and turkey and football — oh my!"
28. "Let our lives be full of thanks and giving and travel."
29. "Give thanks for unplanned trips that are on their way."