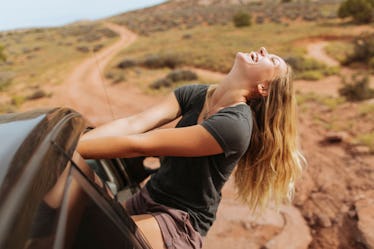 28 Instagram Captions For Your Summer Road Trip With The Girls
Hit the road, ladies. It's officially summer, aka, road tripping season. If there's anything you should be crossing off your summer bucket list, it's a road trip with your girls. Let's face it: Road trips are a breeze. You don't have to worry about stressful airport crowds or delayed baggage. You just need to grab your bags, your girls, and hit the road. These summer road trip Instagram captions will perfectly sum up your journey.
Road trips are an excellent way to bond with your day ones. First, you'll need to decide on a location. When it comes to road tripping, your options are endless. You can stay close to home or choose a multi-day road trip, if you're feeling really spontaneous. The best thing about a road trip is the freedom it allows. As long as you've got a car, you can explore to your heart's desire. You don't have to worry about calling taxis or catching the subway. You can make the most of every moment when you have access to a car. Once you've decided on a destination, selected a playlist, and packed some yummy road trip snacks, you're good to go. Don't forget your camera, because you'll want to capture every second of this adventure.
1. "A journey is best measured in friends rather than miles." — Tim Cahill
2. "Some beautiful paths can't be discovered without getting lost." — Erol Ozan
3. "Let's get lost" — Unknown
4. "Just keep driving." — Unknown
5. "Sometimes the most scenic roads in life are the detours you didn't mean to take." ― Angela N. Blount
6. "Hit the road, Jack!" —Unknown
7. "Life is a highway, I wanna ride it all night long. If you're going my way, I wanna drive it all night long." — Rascal Flatts, "Life Is a Highway"
8. "We travel not to escape life, but for life not to escape us." — Unknown
9. "Look for chances to take the less-traveled roads. There are no wrong turns." — Susan Magsamen
10. "Please don't stop the music." — Rihanna, "Please Don't Stop The Music"
11. "On the road again. Goin' places that I've never been. Seein' things that I may never see again. And I can't wait to get on the road again." — Willie Nelson, "On The Road Again"
12. "Baby, you got the keys. Now shut up and drive" — Rihanna, "Shut Up and Drive"
13. "Bobbin' to the music. This is how we do it, all night (all night). Breezin' down the freeway. Just me and my baby, in our ride. Just me and my boss. No worries at all. Listening to the Aston Martin music, music." — Rick Ross, "Aston Martin Music"
14. "This is where the fun stuff happens." — Unknown
15. "If you ever plan to motor west. Travel my way, take the highway that is best. Get your kicks on Route sixty six." — Natalie Cole, "Route 66"
16. "And so the adventure begins." — Unknown
17. "Oh so breezy" — Unknown
18. "Big wheels keep on turning." — Lynyrd Skynyrd, "Sweet Home Alabama"
19. "I got a blacked out Chevrolet. You don't have a destination. Travelling where the wind will take us. That might be from place to place." — Khalid, "Let's Go"
20. "I've never been there but the brochure looks nice. Jump in, let's go. Lay back, enjoy the show." — Sheryl Crow, "Everyday Is A Winding Road"
21. "City lights lay out before us. And your arm felt nice wrapped 'round my shoulder." — Tracy Chapman, "Fast Car"
22. "Passing all the cars on the way. Movement of the wind, back wheels spin. Pop in a cassette and push play. I'm going back to Cali, Cali, Cali." — LL Cool J, "Going Back To Cali"
23. "As the Southern wind sings again an island lullaby." — Zac Brown Band, "Jump Right In"
24. "Stop worrying about the potholes in the road and enjoy the journey." – Babs Hoffman
25. "Baby you a song. You make me wanna roll my windows down and cruise." — Florida Georgia Line, "Cruise"
26. "Pick up your worries and throw them out the window. You don't gotta let your friends know. There's so much trouble to get into. Let's go, let go." — Khalid, "Let's Go"
27. "We're just having fun. We don't care who sees. So what we go out? That's how it's supposed to be. Living young and wild and free." — Wiz Khalifa, "Young, Wild & Free"
28. "Windows down. Music up." — Unknown