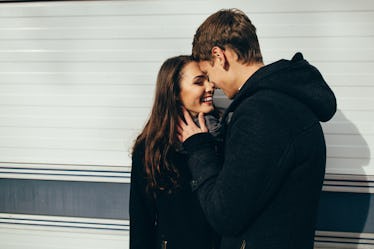 28 Funny Valentine's Day Captions, No Matter The Stage Of Your Relationship
Shutterstock
Valentine's Day can be many things. It can be fun, sexy, and exciting. It can also be a little stressful and hectic— especially if it's your first V-Day with a new boo. What do you get them? How much should you spend on their gift? Do you stay in or make reservations? Don't let the logistics of this popular lovers' holiday stop you from having a great time. Whether you're five years in or five months, these funny Valentine's Day captions will kick things off on a sweet note.
You may not want to post about every second of your Valentine's Day plans with your love, but if you do, that's perfectly OK. When you do post, whether it's on Instagram, Twitter, or Snapchat, you may want a sweet caption. Why not go a different route and choose a hilarious one instead? Poke fun at each other (or yourself) or choose from one of the funny quotes below. That cute moment you're sharing with your followers, paired with a funny punchline or dry humor, will work quite nicely, no matter how many Valentine's Days you've spent together.
1. "You can't put a price tag on love. But if you could, I'd wait for it to go on sale." — Hussein Nishah
2. "All you need is love. But a little chocolate now and then doesn't hurt." — Charles M. Schulz
3. "The only person I'd share my box of chocolates with."
4. "Are you a beaver, because DAM."
5. "My date is such a hot-tea."
6. "Thanks for the date, Cupid."
7. "Words cannot espresso how much you bean to me."
8. "You're one in a watermelon."
9. "Happy Valentine's Day to myself. I love you."
10. "You will always have a pizza my heart."
11. "Roses are red. Violet are blue. Keep the flowers. I'd rather have shoes."
12. "Oh here's an idea: let's make pictures of our internal organs and give them to other people we love on Valentine's Day. That's not weird at all." — Jimmy Fallon
13. "[Love is] hiding who you are at all times. It's wearing make-up to bed and going downstairs to Burger King to poop." — 30 Rock
14. "True love is being able to fart in front of the other person."
15. "I love you as much as Kanye loves Kanye."
16. "I'd press pause on my favorite song for you."
17. "Valentine's Day: the one day where I can sit at home, eat chocolate and drink wine without judgement."
18. "Everyone's posting all these anti-Valentine's Day pics and I'm just over here like 'Lindor dark chocolate truffles will be 50 percent off on the 15th."
19. "Dear Cupid, forget the date, just send wine."
20. "Not swiping left on this date."
21. "What am I allergic to?" "Pine nuts. And the full spectrum of human emotion." — The Proposal
22. "I'm going to spend Valentine's Day with me true love... Food."
23. "Roses are red. Violets are blue. Vodka is cheaper than dinner for two."
24. "Don't go bacon my heart."
25. "Love you a latte."
26. "Yoda best partner."
27. "Cheers to all these years with my butter half."
28. "Our Valentine's Day pic deserves a round of a-paws."
This article was originally published on