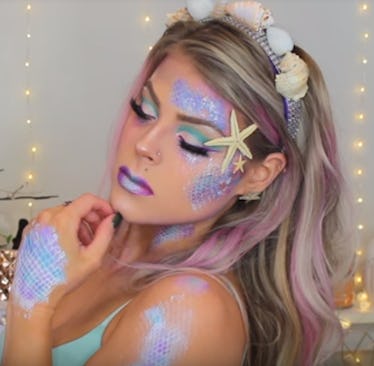 27 Mermaid Quotes For Instagram That Capture The Sea Goddess In All Of Us
There's nothing more carefree, beautiful, and enchanting than the life of a mermaid. For spring break or anytime it's warm, you can't help but want to embrace those mermaid feels and live by the water until the sun goes down. When the sun decides to come out from hiatus, you're gonna want to swap those legs for a fin, because the ocean is about to become your home. It shouldn't be too hard to find mermaid quotes for Instagram, because for some people, mermaids are life.
Mermaids are basically the unicorns of the sea, and experimenting with the different shades of makeup, hair color, and glitter associated with them can be so, so fun. Not to mention, the mermaid look is trendy AF. Even if you aren't a huge mermaid enthusiast, you can't discredit them for being incredibly unique and magical.
A mermaid quote for Instagram is perfect for anyone who wants to further promote their dope, no-care-in-the-world pictures. Whether you're sunbathing, surfing, or chilling by the pool on your pink inflatable flamingo, your pic deserves a blurb about mermaids. Pair your snap with any of these mermaid captions, and you'll be floating towards more likes than your fin can handle.
1. "She is a mermaid but approach her with caution. Her mind swims at a depth most would drown in." — J. Iron
2. "She dreams of the ocean late at night and longs for the wild salt air." —Unknown
3. "Aim to be mer-mazing."—Unknown
4. "Mermaids don't lose sleep over the opinions of shrimp." — Unknown
5. "I'm going to change the world but today, I'll just be a mermaid." — Unknown
6. "There's a million fish in the see, but I'm a mermaid." — Unknown
7. "The ocean's roar is music to the soul." — Unknown
8. "As endless as the ocean, as timeless as the tides." — Unknown
9. "The sea, once it casts its spell, holds one in its net of wonder forever." — Jacques Yves Cousteau
10. "Write your secrets in the sand and trust them with a mermaid." — Unknown
11. "Be a mermaid. Swim fast, wear a crown, and dream big." — Unknown
12. "Make your story so beautiful, mermaids have trouble believing it's true." — r.i.d
13. "I'm done adulting. Let's be mermaids." — Unknown
14. "We dream in colors borrowed from the sea." —
15. "Meet me where the sky touches the sea." — Jennifer Donnelly
16. "You are stronger than the tide." ― Allison Ivy
17. "Because there's nothing more beautiful than the way the ocean refuses to stop kissing the shoreline, no matter how many times it's sent away." ― Sarah Kay
18. "I was happy anywhere I could see the ocean." ― Ai Yazawa
19. "I have sea foam in my veins, I understand the language of waves." ― Le Testament d'Orphée
20. "You are not a drop in the ocean. You are an ocean in a drop." ― Joy N. Hensley
21. "The sea always filled her with longing, though for what she was never sure." ― Cornelia Funke
22. "I am the ocean. I am the sea. There is a world inside of me." — Bring Me The Horizon
23. "Trippin' on skies, sippin' on waterfalls." — Troye Sivan
24. "Dear Ocean, thanks for making us feel tiny, humble, inspired, and salty... all at once." — Unknown
25. "You can't cross the sea merely by standing and staring at the water." — Rabindranath Tagore
26. "Let the sea set you free." — Unknown
27. "I couldn't imagine living in a state that didn't reach the ocean. It was a giant reset button. You could go to the edge of the land and see infinity and feel renewed." ― Avery Sawyer
No matter what you get yourself into during the amazing warmer months of the year, do it uniquely and enthusiastically. You'd be surprised what it feels like to really go with the tide.