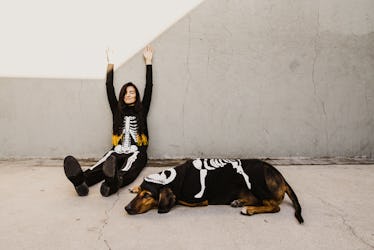 27 Impawssibly Cute Captions If You're #Twinning With Your Pup This Halloween
In my opinion, there are few things in life that make us as happy as our furry friends can. So it's a no-brainer that, when picking out Halloween costumes this year, your pet is at the top of your priority list. In fact, you might even pick out their costume before you pick out your own. If you're planning on getting matching outfits, here are some Instagram captions for your Halloween costume with your dog that'll have you laugh-crying fur days.
You'd think that it's impawssible for your dog to get any more adorable, but just wait until you put your matching costumes on — the level of cuteness will go through the ruff. You two can hit up a costume contest, go trick-or-treating through your neighborhood, or even host a party for your friends and their fur babies. You'll have such a good time, you won't even want to take the costumes off at the end of the night.
So, what are you waiting fur? Go buy your furry friend a cute little outfit that'll match yours perfectly. You'll take the most epic Halloween pictures that will make you smile for years to come.
1. "#Twinning and #Winning"
2. "Nothing can come be-twin us."
3. "Money can buy a lot of things, but it doesn't wiggle its butt and wag its tail every time you come in the door."
4. "All we do is twin, twin, twin, no matter what."
5. "With my pup, life is just pawfect."
6. "Our matching costumes are pawsitively adorable."
7. "Forget diamonds. Dogs are a girl's best friend."
8. "If I had a dollar for every time my dog made me smile, I would be a millionaire."
9. "Halloween isn't ruff when I have my furry friend by my side."
10. "Couldn't decide what to dress up as, so I figured mutt as well try to match with my pup."
11. "Matching with my pup is the leashed I could do."
12. "You ain't nothing but a hound dog." — Elvis Presley, "Hound Dog" (Perfect if you're dressing up as Elvis, or if your dog is actually a hound.)
13. "Hope our matching costumes aren't too corgi."
14. "Don't we look fetching in our matching costumes?"
15. "My pup's spooky costume is terrier-izing the neighborhood."
16. "Don't worry, our bark is worse than our bite."
17. "Trick or TREAT!"
18. "Our matching costumes deserve a round of appawse."
19. "Living that pug life."
20. "Yes, fur real, I'm matching with my dog."
21. "Fur your information, I think we both look smashing."
22. "I don't think it's pawssible for our costumes to be any cuter."
23. "[Insert your pet's name here] was feeling pawsh tonight, so we got a little dressed up."
24. "I hope these costumes teach you the impawtance of matching with your dog."
25. "Halloween 2018: Gone but never furgotten." — Unknown (Perfect for a good #TBT pic of you and your furry friend after Halloween passes.)
26. "It's impawssible to get any cuter than this."
27. "Can we wear these costumes furever?"
This article was originally published on