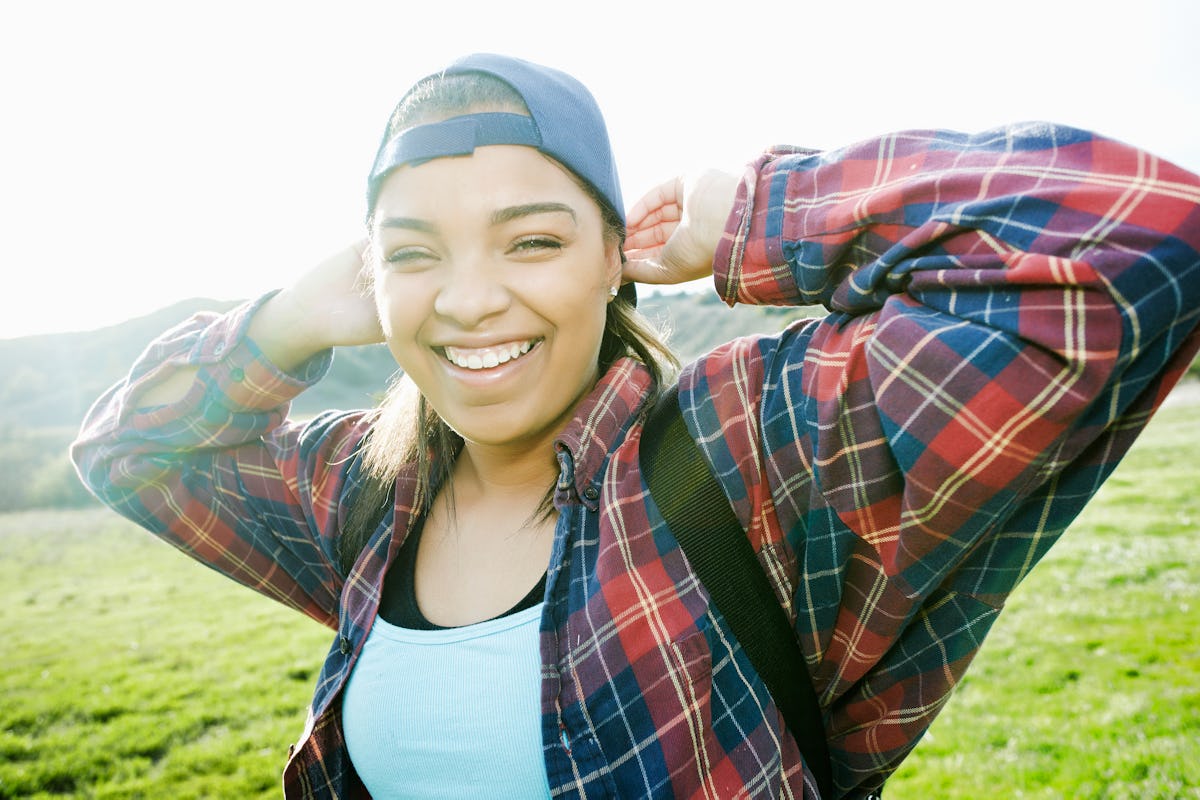 27 Instagram Captions For Oversized Flannels, Because Fall Is Your Season
Even at the slightest temperature drop, I'm racing to my closet to break out my fall wardrobe. (Bring on the sweater weather, please!) Even though I love a nice cardigan, the one staple that I absolutely cannot live without during the fall is an oversized flannel. There's no denying that fall is the coziest of seasons. Your go-to activity might be getting wrapped up in a blanket with bae, or drinking a pumpkin spice latte with your crew, so it makes sense that you want your clothes to be just as cozy. For all of your comfy fall outings, you'll need some Instagram captions for oversized flannels.
Between the weekend getaways with your friends, to hitting up pumpkin patches and going on hayrides with your SO, you'll want to do it all for the 'Gram. So, your outfits better be fit to slay the season. Autumn makes it easy, as it's the perfect weather where you don't have to prepare for intense heat or bundling up in a million layers. You can never go wrong with a casual flannel and some cute AF leggings. Your whole crew may even jump on the plaid trend, and then you'll definitely need to snap a pic for Instagram of your #SquashGoals. The theme of the season is carefree and laid-back, so I've made things super simple for you to post with any of these 27 flannel captions:
1. "Beauty is a mystery. You can neither eat it nor make flannel out of it." — D.H. Lawrence
2. "Sorry for what I said when I wasn't wearing flannel."
3. "#FlannelSZN"
4. "I'd much prefer to be in my flannel pajamas with a cup of Night-Night tea and a book, thank you very much." — Jenny Han, Always and Forever, Lara Jean
5. "It's flannel season."
6. "Flannel is the reason for the season."
7. "People who hate on flannel are not worth your time, you own that lumberjack look and chop down the haters."
8. "Fashions fade. Flannel is forever."
9. "I'm awake in nothing but his flannel." — Gavrielle, "Flannel"
10. "When your flannel matches your pumpkin spice latte."
11. "It's almost that time of year when others look cute in their flannel, and I look like I've misplaced my axe."
12. "Let's stay home."
13. "Cold, cozy nights, warm blankets, and hot chocolate."
14. "Channel the flannel."
15. "A woman is never sexier than when she is comfortable in her clothes." — Vera Wang
16. "Everything looks better in plaid."
17. "Oh deer."
18. "Let's snuggle."
19. "On Wednesdays, we wear flannel."
20. "May your clothes be comfy, your coffee be strong, and your Monday be short."
21. "Be everything you want this season."
22. "Clothes aren't going to change the world. The women who wear them will." — Anne Klein
23. "Who needs a boyfriend when you have a comfy, oversized flannel?"
24. "Be glad and wear plaid."
25. "It moose be love."
26. "Oh, here's my flannel. The character's in the way you wear it. It takes your shape while you keep it on." — Justin Timberlake, "Flannel"
27. "So stay warm in that flannel that I left on your bed." — The Cardboard Swords, "Flannel"