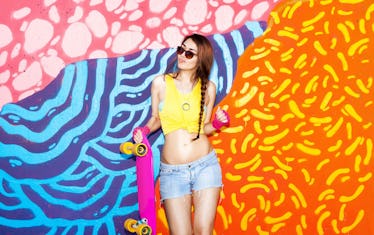 27 Clever Captions For August, Because It's Still Summer, Baby
August has officially arrived, and there's still enough time to make more memories in the sunshine before summer's over. It's certainly a bittersweet time, but let's live in the moment before we consider that this glorious season will come to a close. You'll want to cherish your lazy days at the pool and beach, and Instagram captions for August will help you bookmark those end-of-summer vibes.
Don't let your August be four weeks of feeling sad that fall is right around the corner. This season is all about seizing the day (or shall I say seas-ing the day) if you've dedicated most of your summer to being a beach bum. You can still plan a weekend getaway at the lake, a themed pool party for your friends to enjoy, or a solo road trip to your favorite summer hotspot.
You can't control how fast time seems to go when you're living your best life soaking up that Vitamin D, but you can make good use of your own time. Summer's outcome is up to you, and if you spend it wisely, it won't be all that bad when it comes time to say goodbye. Grab your pool float, strike an Insta-worthy pose, and use any of these 27 captions to welcome this final month of summer.
1. "Trust me, summer isn't over just yet." — Unknown
2. "August already? Someone show me the nearest pool." — Unknown
3. "Ain't nothing like those summer nights." — Unknown
4. "In my book, summer isn't going anywhere." — Unknown
5. "Can it just be summer year-round?" — Unknown
6. "Slow down, summer. You're giving us August already." — Unknown
7. "Summer, your August is showing." — Unknown
8. "There's something about August that makes you want to cling onto summer for dear life." — Unknown
9. "Dear August, I'm sorry for what I said when I thought you were September." — Unknown
10. "Technically, it's still summer." — Unknown
11. "Life is beautiful." — Unknown
12. "August is here, and I'm over there by the pool." — Unknown
13. "August babies, it's our turn." — Unknown
14. "My summer is still loading." — Unknown
15. "They'll never take the summer away from me. Never!" — Unknown
16. "I only know love at first sight when I'm at the beach." — Unknown
17. "The golden rule of summer: Don't be afraid to jump in." — Unknown
18. "I'm a pool kid no matter what part of summer it is." — Unknown
19. "BRB, chasing the rest of summer." — Unknown
20. "Summer should get a speeding ticket." — Unknown
21. "August is like the Sunday of summer." — Unknown
22. "August has me more in my feelings than Drake does." — Unknown
23. "I refuse to let summer go that easily." — Unknown
24. "I find my happiness where the sun shines." — Unknown
25. "During summer, the sun seems new each and every day." — Unknown
26. "New month, same summer." — Unknown
27. "Sea you later, summer." — Unknown
I don't know about you, but August is still an important chapter in summer's novel. Don't flip the page before it starts getting good, because September can wait a little bit longer.