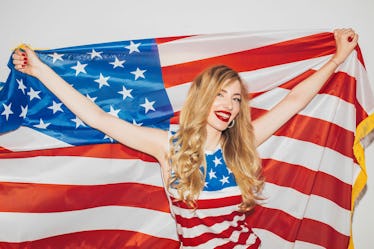 27 Clever Fourth Of July Instagram Captions That Are Set To Sizzle
The Fourth of July is right around the corner, so you're likely gearing up for beach plans with the crew, or a sweet backyard BBQ with bae. It's a time to soak up those beautiful rays of sunshine, float with a glass of sangria in hand on a patriotic pool floaty, and snuggle up to watch the firework display when the day comes to a close. If you're planning on taking a bunch of pictures with your favorite people, you'll need some clever Fourth of July captions to portray your feels to your followers. Everyone is going to enjoying their own holiday shenanigans, but your witty post will truly steal the show.
By now, you've already got your red, white, and blue outfit picked out. (And if it's a onesie, you're already winning the Insta game.) Would that outfit be complete without a pair of Converse, though? Not likely, but I digress. The Fourth of July the perfect time to coordinate an outfit with bae, your friends, or your pup. You're looking forward to snapping pics of everyone, dressed in their festive best.
Those unexpected candid shots are always golden, especially when everyone is looking up at the fireworks and living their best lives. Sure, your family is going to crack jokes, and you and your friends will get super nostalgic about Fourth of July celebrations of the past, but for the 'Gram, you need something short and sweet about the present. The colors you rock this holiday might mirror everyone else's, but these 27 captions will totally stand out.
1. "Food, family, Fourth of July, and fireworks. The four best F words ever." — Unknown
2. "Who knew red, white, and blue could all be my colors?" — Unknown
3. "Red, white, and brew." — Unknown
4. "Sparks are sure to fly. It's the Fourth of July." — Unknown
5. "Today we all share the same sparkle in our eyes." — Unknown
6. "Pretty sure I was a sparkler in another life." — Unknown
7. "Red, might, and blue." — Unknown
8. "Thanks to the Fourth of July, your Hump Day is lit." — Unknown
9. "My dietary request for your Fourth of July BBQ is wine, please." — Unknown
10. "Why in the world aren't these humans hiding with me?" — My Dog
11. "Hey, who turned on the lights?" — Unknown
12. "You can't handle all this sparkle." — Unknown
13. "Yes, I have been waiting all year for this." — Unknown
14. "If you didn't grill, did your Fourth of July even happen?" — Unknown
15. "Trying to apply for a professional Fourth of July party crasher position. Need references." — Unknown
16. "Miley was right. It is a party in the U.S.A." — Unknown
17. "I haven't partied this hard since 1776." — America
18. "The party don't start until I walk in, right?" — Unknown
19. "Setting A Guinness World Record for saying 'America' the most in a sentence." — Unknown
20. "Current mood: Cue the sparklers." — Unknown
21. "I'm sorry, I can't hear you over my freedom." — Unknown
22. "Cheers to the freaking weekend. Oh, wait?" — Unknown
23. "Holiday on Wednesday = midweek shenanigans." — Unknown
24. "Tonight, the sky will be the only thing more lit than me." — Unknown
25. "Do you believe in magic now?" — Unknown
26. "Can celebrating during the Fourth of July be a professional sport already?" — Unknown
27. "Shhh... the fireworks are about to start." — Unknown
This Fourth of July is set to sizzle. Don't let those fun times pass you by, and look up to the magic in the sky.