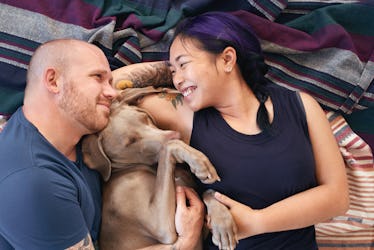 26 National Pet Day Captions To Show Your Fur Bae Some Lovin' On The 'Gram
Oh, pets. There's no simple way to explain what your pet means to you, because the feels can hardly be described in words. Their presence really just makes your life so much better, and to be able anticipate seeing them every single day is something rewarding to look forward to. That's why you'll need to pull out all of the sweet and sappy National Pet Day captions to really honor today.
Pets deserve your sweetness, sappiness, and so much more, because they never ask for anything in return — except maybe a belly rub and cuddle time. Having a pet teaches you to care for something other than yourself. And unlike the majority of things you put your effort into, you more often than not see how your efforts benefit your pet. They're your whole world, and you would seriously do anything for them.
One day doesn't hardly seem like enough to fluff your pet's feathers, fur, or scales, but you aren't missing out on an opportunity to post a cute pic of them, are you? That deep love for taking pics of them will never, ever subside, no matter how long you've had them. Let National Pet Day give you yet another chance to find one of the adorable pics ever and top it with a few of the many sweet words you could possibly say about them.
1. "A dog's love is only second to that of a mother's." — Radhika Mundra
2. "What greater gift than the love of a cat?" — Charles Dickens
3. "Time spent with cats is never wasted." — Sigmund Freud
4. "Until one has loved an animal a part of one's soul remains unawakened." — Anatole France
5. "This home is filled with kisses, wagging tails, wet noses, and love." — Unknown
6. "Animals share with us the privilege of having a soul." — Pythagoras
7. "The truth about an animal is far more exciting and altogether more beautiful than all the myths woven about it." ― Konrad Lorenz
8. "With them, life is just pawfect." — Unknown
9. "There is no such thing as 'just a dog'." — Unknown
10. "My little dog - a heartbeat at my feet." — Edith Wharton
11. "Pets are humanizing. They remind us we have an obligation and responsibility to preserve and nurture and care for all life." — James Cromwell
12. "There are no bad days when you come home to a pet." — Unknown
13. "Animals are reliable, many full of love, true in their affections, predictable in their actions, grateful and loyal. Difficult standards for people to live up to." — Alfred A. Montapert
14. "Two feet move your body. Four feet move your soul." — Unknown
15. "Pets. Life's apology for every crappy day ever." — Unknown
16. "Happiness is when my cat sleeps next to me." — Unknown
17. "I gave you a forever home and you gave me a forever love." — Unknown
18. "The road to my heart is paved with paw prints." — Unknown
19. "An animal's eyes have the power to speak a great language." ― Martin Buber
20. "Home is where the paw is." — Unknown
21. "Dogs are not our whole life, but they make our lives whole." — Roger Caras
22. "Love is a four-legged word." — Unknown
23. "Anyone who thinks money can't buy happiness has never owned a cat [or any pet]." ― Arya Riverdale
24. "Animals are such agreeable friends―they ask no questions, they pass no criticisms." ― George Eliot
25. "Our perfect companions never have fewer than four feet." ― Sidonie Gabrielle Colette
26. "Perhaps the greatest gift an animal has to offer is a permanent reminder of who we really are." ― Nick Trout
The devoted love from a pet should teach you a valuable lesson every single day. Make sure you remind them how special they are whenever you can.