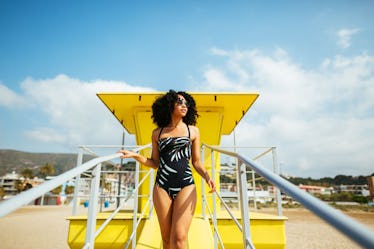 26 Lifeguard Captions For Your IG That'll Make A Serious Splash This Summer
Summer is right around the corner, and you can almost satisfy your longing to spend lazy afternoons at the beach. Remember when you had absolutely no clue what those little hut-like things on beach were as a kid? Now,those lifeguard towers are not only a cool prop for your bikini pics, but they also remind you of shirtless Zac Efron doing his thing in Baywatch. You'll likely want to hop right into the water after you pose for any of your beach pics, so choose a few lifeguard captions for Instagram before you dive into the deep blue.
Are you rockin' a bright red suit this summer? Even better. That iconic lifeguard color isn't leaving the swimsuit trend anytime soon. Of course, make sure you aren't cramping any actual lifeguard's style when you turn their tower into your photoshoot partner.
Just think about after hours at the beach when you're sitting in the tower chair in your lifeguard sweatshirt and watching the sunset with bae. You may not be saving the day, but whatever pic you snap of that moment will surely capture a sweet piece of summer in your phone.
Don't be shy. Summer's all about seizing the day... one lifeguard chair at a time. And if your SO is a lifeguard, you'll certainly need something cute and witty, because they are your favorite bae to watch all summer long. (See what I did there?) So, whether you're chilling by the lifeguard boat or getting your Baywatch slow run in along the shoreline, make an even bigger splash with these 26 captions.
1. "I'm about to dive in." — Trey Songz, "Dive In"
2. "Came through drippin' (drip drip)." — Cardi B, "Drip"
3. "Wherever you go, no matter what the weather, always bring your own sunshine." — Anthony J. D'Angelo
4. "Good vibes happen on the tide." — Unknown
5. "If in doubt, paddle out." — Unknown
6. "B.E.A.C.H: Best Escape Anyone Can Have." — Unknown
7. "A lifeguard doesn't wait for her ship to come in, she swims to it." — Unknown
8. "The view from up here makes me never want to come down." — Unknown
9. "Lifeguard on duty." — Unknown
10. "Baewatch." — Unknown
11. "Live in the sunshine, swim the sea, drink the wild air." — Ralph Waldo Emerson
12. "Palm trees, ocean breeze, salty air, sun kissed hair. That endless summer, take me there." — Unknown
13. "A lifeguard is like a light guiding others to safety." — Unknown
14. "Making a splash." — Unknown
15. "I couldn't be a ninja, so I became a lifeguard." — Unknown
16. "Ocean air, salty hair." — Unknown
17. "Don't mess with the whistle." — Unknown
18. "Life is better at the beach." — Unknown
19. "Sky above our heads. Sand beneath our feet. Life is good." — Unknown
20. "A lifeguard doesn't wait to take the leap. She jumps in." — Unknown
21. "We dream in colors borrowed from the sea." — Unknown
22. "I am the shore and the ocean, awaiting myself on both sides." ― Dejan Stojanovic
23. "Those who live by the sea can hardly form a single thought of which the sea would not be part." ― Hermann Broch
24. "Happiness is the sand between your toes and the sunburn on your nose." — Unknown
25. "You are not a drop in the ocean. You are an ocean in a drop." ― Joy N. Hensley
26. "The ocean stirs the heart, inspires the imagination and brings eternal joy to the soul." — Robert Wyland
Wherever you are posing for pics this summer, make sure you're soaking up that Vitamin D. The season will be here and gone before you know it.