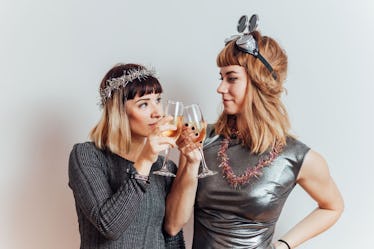 Drop Everything & Celebrate These 25 Things About Your Quarter-Life With Your BFF
There's a lot of commotion and taboo associated with reaching your quarter-life. Many people like to assume that your mind should be in crisis mode, because you're a quarter of a century old. But who's thinking that far ahead? You're living in the present with your ride or dies who are going to make this year even better than the previous one. You may already be brainstorming the things to celebrate about your quarter-life with your best friend (because she isn't going to get super analytical about your new age), and I'm here to help a girl out.
Turning 25 isn't the end or middle of anything. It's what you are right now, and you definitely don't want to mark your present with remorse about how many years you're racking up. It's a time to be grateful and perceptive of the person you are right now. There's no better way to celebrate this joyous time in your life than with your best friend.
Anyone could pop bottles with you on any birthday, but your BFF is going to give you the celebration you need — the kind of celebrating that leaves you mentally and emotionally satisfied with your quarter-life situation. I'm not saying there won't be streamers and cupcakes, but you and your bestie should celebrate these 25 things about your quarter-life.