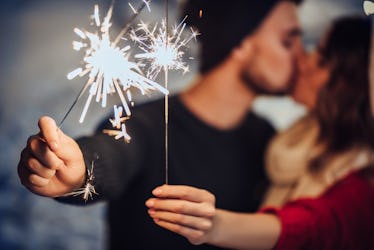 25 New Year's Kiss Captions For Instagram That'll Send More Sparks Flying
It almost seems like something straight out a movie — that moment when everyone is chanting down from 10, and then, almost in slow motion, you get your New Year's Eve kiss. And if you're lucky, someone snagged a picture of the magical second, and all you need are some New Year's kiss Instagram captions so that you can share that beautiful instance with everyone. You know, because if there isn't proof these days, did it seriously even happen?
A New Year's Eve kiss is sort of seen as good luck, or at least, our little hopeful hearts like to think so. Literally, the very first seconds of a brand new year involve your lips touching someone else's. How could that not mean good things are headed your way? And even if this was a sporadic, I need that kiss type of a thing, you still took the reigns to a moment, and let's face it, after the mismanagement of 2017, we all need to feel like we have some sort of control in 2018.
So, don't let your glorious moment of taking control of those first few faithful moments leading into 2018 go to waste. You'll be sorely missed, 2017 ( totally kidding), but now it's time to kiss you goodbye — literally. Don't let those adorable pics of your fresh start to the new year get posted anywhere without one of these captions to bring it to new heights.
1. "And now we welcome the new year. Full of things that have never been." — Rainer Maria Rilke
2. "Cheers to a new year and another chance for us to get it right." — Oprah Winfrey
3. "Celebrate what you want to see more of." — Tom Peters
4. "Accept what people offer. Drink their milkshakes. Take their love." — Wally Lamb
5. "And suddenly you know. It's time to start something new and trust the magic of beginnings." — Meister Eckhart
6. "This is the beginning of anything you want." — Boy
7. "Tomorrow is the first blank page of a 365 page book. Write a good one." — Brad Paisley
8. "I'll make up for all the years I was supposed to be kissing you." — Leo Christopher
9. "The next year just be happy." — Unknown
10. "There is a difference between kissing someone because they are attractive and kissing someone because words can no longer accurately express your feelings for the person." — Unknown
11. "There is nothing in this world that makes me feel the way I do when you kiss me." — Unknown
12. "When you kiss and it feels like... finally." — Unknown
13. "Kiss me, and you will see how important I am." — Sylvia Plath
14. "One day you will kiss a man you can't breathe without, and find that breath is of little consequence." — Karen Marie Moning
15. "The new year means nothing if you're still in love with your comfort zone." — Rachel Wolchin
16. "Kiss me at midnight." — *NSYNC
17. "Make me immortal with a kiss." — Christopher Marlowe
18. "A kiss is a secret which takes the lips for the ear." — Edmond Rostand
19. "It's the kind of kiss that inspires stars to climb into the sky and light up the world." — Tahereh Mafi
20. "A kiss is a lovely trick designed by nature to stop speech when words become superfluous." — Ingrid Bergman
22. "Close your eyes and I'll kiss you, Tomorrow I'll miss you." — Paul McCartney
23. "I had to do that. At least once." — Suzanne Collins
24. "This is the part where I kiss you." — Cynthia Hand
25. "I'm going to kiss you now, and I don't know if I'll ever stop." — Jamie McGuire
Make your New Year's Eve kiss mean something. You're starting a new, clean slate, and that means you have every right to own it.