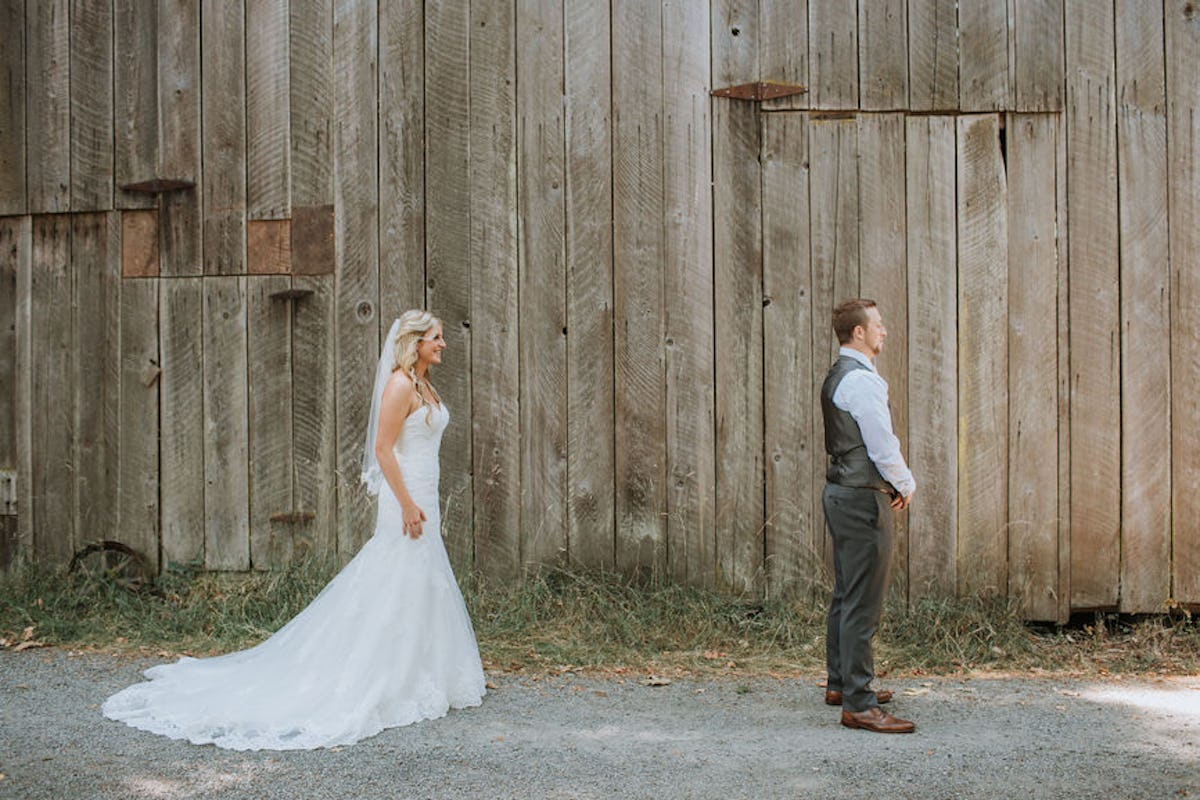 25 Sweetest Captions For Your First Look Pic That'll Have You & Your SO In Tears
Even though wedding trends have evolved over the years, there are some classic traditions that'll probably never disappear, including the father-daughter dance and bouquet toss. But a tradition that's relatively new is the "first look." Instead of having the groom see the bride for the first time when she walks down the aisle, the couple schedules some time before the ceremony to see each other for the first time on their wedding day. Of course, many tears will be shed, and many pictures will be taken, so here are some perfect Instagram captions for first look pics.
The first look can be really emotional. Brides and their glam squads put a lot of time into the hair and makeup, and usually, this is the first time the groom sees the bride in her gorgeous gown. It's the perfect way to kick off such a romantic day, and the photographer will be there every step of the way to capture all of the magic.
If you're thinking of adding a first look to your wedding festivities, you absolutely need to keep these heartwarming Instagram captions in mind.
1. "But it's something about the way you look tonight, takes my breath away." — Elton John, "Something About The Way You Look Tonight"
2. "'Cause I love you, just the way you look tonight." — Frank Sinatra, "The Way You Look Tonight"
3. "When you look me in the eyes, and tell me that you love me, everything's alright." — Jonas Brothers, "When You Look Me In The Eyes"
4. "When it comes to lovin' me, baby you make it look so easy." — Eric Church, "You Make It Look So Easy"
5. "You got the look." — Prince, "U Got the Look"
6. "Look at us, still believin' in forever." — Vince Gill, "Look At Us"
7. "When I look at you, you appear just like a dream to me." — Miley Cyrus, "When I Look At You"
8. "Together is a beautiful place to be." — Unknown
9. "Ready to get wed, white, and boozed with the love of my life." — Unknown
10. "Here's to love, laughter, and happily ever after." — Unknown
11. "Every love story is beautiful, but ours is the best one." — Unknown
12. "I can't think of anyone I would want to spend my life with more than you." — Unknown
13. "I'll be there from when you wake up to when you lie your head down to rest." — Unknown
14. "Love is in the air." — Unknown
15. "Does this dress make me look like a Mrs.?" — Unknown
16. "You are what happened when I wished upon a star." — Unknown
17. "He stole my heart so I am planning revenge. I am going to take his last name." — Unknown
18. "I'm a few steps away from my forever." — Unknown
19. "You look good wearing my future." — Keith, Some Kind of Wonderful
20. "Some people are worth melting for." — Olaf, Frozen
21. "Our very own happily ever after." — Unknown
22. "Hold my hand and we're halfway there, hold my hand and I'll take you there." — West Side Story, "Somewhere"
23. "If the sun refused to shine, I would still be loving you. When mountains crumble to the sea, there will still be you and me." — Led Zeppelin, "Thank You"
24. "I turned around and love was mine for the taking, look what I found." — Chris Cagle, "Look What I Found"
25. "Look what I found, somebody who'll carry 'round a piece of my heart." — Lady Gaga, "Look What I Found"