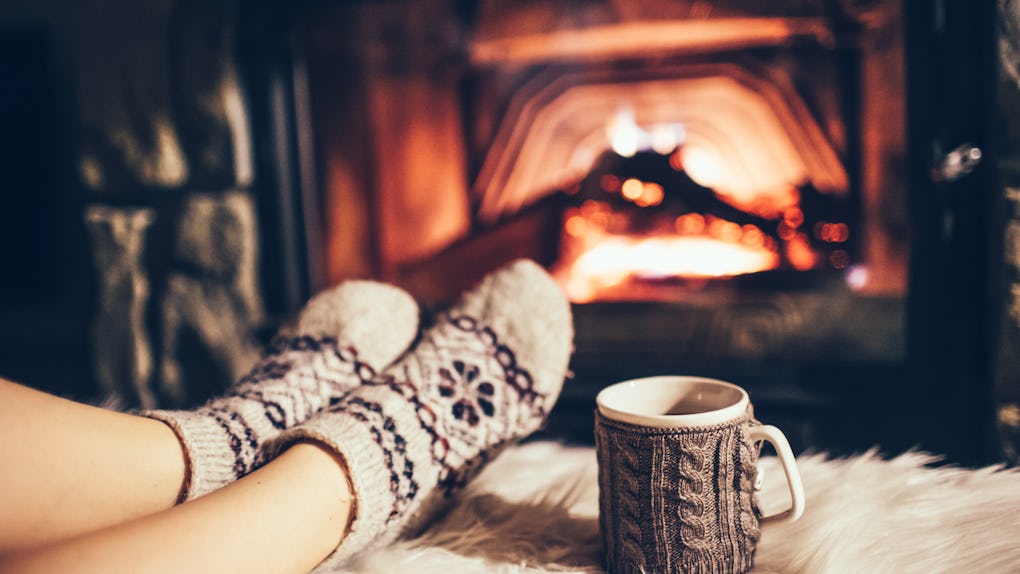 AlexMaster/Shutterstock
25 Instagram Captions For Fireplace Photos That Are Cozy As Hell
There's a therapeutic factor to fireplaces, which is ironic, because fire is so often associated with destruction. When those lovely flames are contained under our mantle and we're nestled close soaking up the heat as if it were the sun, it's truly heavenly. You've likely felt this elation before and wondered, what are good Instagram captions for fireplace photos? It sounds simple, but by now, your mind is in limbo — that in-between phase where you're torn on how to capture and post this moment, but still continue to relax.
You're not alone. Even when you think you're completely relaxed, you need proof of this bliss, and that means posting it somewhere for all to see. That's just the world we live in now. And a simple fire may not seem super entertaining, but that super relaxed state, paired with a lit caption, is bound to have people wishing they could jump into your pic and share that crocheted blanket with you.
Subliminal thirst trap? Maybe. It's the holiday season, so who wouldn't want to be cozy near a fire while drinking their favorite warm beverage? That's basically one of the main anticipations of this time of year, right?
A well-lit fire is the perfect excuse to remain indoors during these cozy months. And if your tactics are right, those endless likes on Instagram will keep you company when you pair your utter coziness with an even more warm and fuzzy caption.
1. "If the world seems cold to you, kindle fires to warm it." — Lucy Larcom
2. "It's the best feeling when you wake up and it's warm and cozy, and you don't have to go to work." — Emmy Rossum
3. "It's the little things in life." — Unknown
4. "She leaves a little sparkle wherever she goes." — Unknown
5. "Hot cocoa and fuzzy socks." — Unknown
6. "From a little spark may burst a flame." — Dante
7. "I was born with my heart on my sleeve, a fire in my soul, and a mouth I can't control." — Unknown
8. "If the world is cold, make it your business to build fires." — Horace Traubel
9. "Chop your own wood and it will warm you twice." — Henry Ford
10. "Winter is the time for comfort, for good food and warmth, for the touch of a friendly hand and for a talk beside the fire: it is the time for home." — Edith Sitwell
11. "Ah! There is nothing like staying at home, for real comfort." — Jane Austen
12. "Just breathing can be such a luxury sometimes." — Walter Kirn
13. "Each of us is born with a box of matches inside us but we can't strike them all by ourselves." — Laura Esquivel
14. "She's mad, but she's magic. There's no lie in her fire." — Charles Bukowski
15. "Keep a little fire burning; however small, however hidden." — Cormac McCarthy
16. "The days are getting colder, have a warm heart." — Unknown
17. "Everyone has the fire, but the champions know when to ignite the spark." — Amit Ray
18. "The smallest things warm the heart." — Unknown
19. "I want more of this feeling — fire and wings." — Jean Rhys
20. "All you need is tea and warm socks." — Unknown
21. "If the fire in your heart is strong enough, it will burn away any obstacles that come your way." — Suzy Kassem
22. "Light a fire they can't put out." — Unknown
23. "I'm playing with fire, with something I don't understand." — L.J. Smith
24. "Fire, after all, does not consume. It transmutes." — Kaia Anderson
25. "I run into fires, not from them." — Unknown
Whether you're next to the fire reading a book or simply gazing into the flames, you already know how carefree the whole experience can be. It really doesn't get any cozier than that.