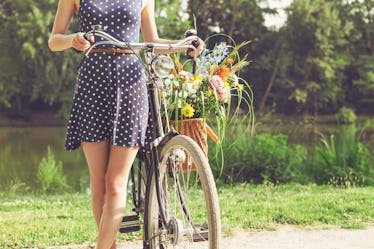 23 Instagram Captions For Your Sundress Pics, Because Brighter Days Are Near
Polka dots, striped, or floral — nothing quite beats getting all of your sundresses ready because the temps are warmer. Sundresses are so diverse and can be styled with so many different accessories. From sneakers to sandals, a well-worn sundress has more than one way to steal the spotlight. You know you're already going to be snapping pics — and aside from a thin leather belt, you are going to need Instagram captions for sundresses to pull the whole ensemble together.
A sundress is one of the most convenient items of clothing to wear when it's warm. It can be super dolled up or laid-back, depending on what awesome things you get into while out and about in the oh-so-lovely temps. Long or short, sundresses are the most iconic way to welcome spring and summer. They're probably the true testament that the sun has graced us with its presence once again. Any phenomenal time you've had during the warmer months can likely be traced back to a sundress.
Your flower field pics just wouldn't be complete without a sundress. You also can't forget how perfect they are for those spontaneous beach days. It's insane the amount of ways you can wear a sundress, but we are so here for that versatility. So, before you get lost in those iconic sundress twirls you have to inevitably do, pair your pic with an even more captivating caption.
1. "I'm walking on sunshine." — Katrina & The Waves, "Walking On Sunshine"
2. "Over the years I have learned that what is important in a dress is the woman who is wearing it." ― Yves Saint-Laurent
3. "Wherever you go, no matter what the weather, always bring your own sunshine." — Anthony J. D'Angelo
4. "It's like I have a window in my chest where sunlight is pouring in." ― Jandy Nelson
5. "Everything good, everything magical happens between the months of June and August." — Jenny Han, The Summer I Turned Pretty
6. "When a woman smiles the dress must smile with her." — Madeleine Vionnet
7. "Soak up the sun and let the flowers grow in your soul." — Unknown
8. "Whatever the clouds plan to do; I always trust in the sun which never fails to come out." — Munia Khan
9. "I'm gonna soak up the sun." — Sheryl Crow, "Soak Up The Sun"
10. "A dandelion, in the garden, will always roar when the sunlight approaches." ― Anthony T.Hincks
11. "Here comes the sun, and I say it's all right." — The Beatles, "Here Comes the Sun"
12. "Summer stretching on the grass, summer dresses pass." — U2, "Staring at the Sun"
13. "Shining how we want, brighter than the sun." — Colbie Caillat, "Brighter Than the Sun"
14. "Summer afternoon — summer afternoon; to me those have always been the two most beautiful words in the English language." — Henry James
15. "Sun is shining. Weather is sweet. Make you wanna move your dancing feet." — Bob Marley
16. "Ô, Sunlight! The most precious gold to be found on Earth." ― Roman Payne
17. "When I feel the heat, I see the light." ― Everett Dirksen
18. "No winter lasts forever; no spring skips its turn." — Hal Borland
19. "Spring is nature's way of saying, 'Let's party!'" — Robin Williams
20. "Summer has filled her veins with light and her heart is washed with noon." — C. Day Lewis
21. "Let us dance in the sun, wearing wild flowers in our hair..." — Susan Polis Schutz
22. "Summertime is always the best of what might be." — Charles Bowden
23. "I love how summer just wraps its arms around you like a warm blanket." — Kellie Elmore
Sundresses really are at the top of the list for things we love about when it's warm outside. It's no wonder they make us want to twirl around in circles.