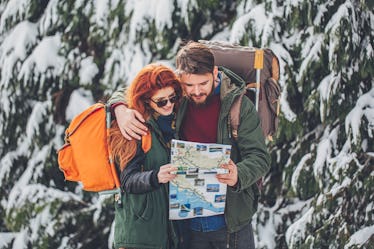 22 Travel Quotes For Couples, Because Wanderlust Is Better Embraced In Twos
No matter where you're at in life, wanderlust is a feeling that never really subsides. You want to see the world, and if you're lucky, your bae has the same travel goals as you do. Your trips together never go undocumented, even if it's a simple weekend getaway to a nearby city. But for those bigger adventures that might require a new stamp on your passport, you'll need travel quotes for couples to post on the 'Gram.
As much as Mother Nature provides breathtaking scenery for all of your pictures, a great caption ties it all together. Those bucket list locations will ultimately leave you and bae speechless. When you're surrounded by a captivating new environment, staring at your phone trying to think of the right caption is the last thing you want be doing. Being prepared with a few quotes on standby will allow you two to fully live in the moment and appreciate the beauty around you.
Exploring the Rocky Mountains for the first time, or hitting up the surf and sand in the Maldives? There's a caption for all of your epic adventures, and your followers will have no other choice but to swoon. These caption ideas truly describe the vibes you get when exploring a new place for the first time. You and your partner may already be packed and ready to go, but leave a little extra room for these awesome captions.
1. "The world is a book and those who do not travel read only one page." — Saint Augustine
2. "Wherever you go becomes a part of you somehow." — Anita Desai
3. "Travel brings power and love back into your life." — Rumi
4. "Travel far enough, you meet yourself." — David Mitchell
5. "I am not the same having seen the moon shine on the other side of the world." ― Mary Anne Radmacher
6. "One's destination is never a place, but a new way of seeing things." ― Henry Miller
7. "There is a kind of magicness about going far away and then coming back all changed." — Kate Douglas Wiggin
8. "Most of the time, beauty lies in the simplest of things." — Winna Efendi
9. "I didn't know that the world could be so mind-blowingly beautiful." — Justina Chen
10. "This wasn't a strange place; it was a new one." — Paulo Coelho
11. "The journey is the destination." — Dan Eldon
12. "They say life is a highway and we all travel our own roads, some good, some bad, yet each is a blessing of its own." — Jess "Chief" Brynjulson
13. "The best way to know a city is to eat it." ― Scott Westerfeld
14. "Traveling — it leaves you speechless, then turns you into a storyteller." — Ibn Battuta
15. "We travel not to escape life, but for life not to escape us." — Unknown
16. "Traveling is the best education. You see the world through another lens. You realize your homeland isn't the only reality, there's many." — Mark Patterson
17. "When you travel, the battered old suitcase only tells half the story." — Virginia Alison
18. "My friends don't ask me anymore 'How are you,' they ask, 'Where are you.'" ― Lugene Hessler Hammond
19. "The world we know is dwarfed by the worlds we don't. Why not explore them all?"― Erica Ferencik
20. "Travel is the only thing you buy that makes you richer." ― Unknown
21. "When we allow ourselves to explore, we discover destinations that were never on our map." ― Amie Kaufman
22. "Travel doesn't become adventure until you leave yourself behind." ― Marty Rubin