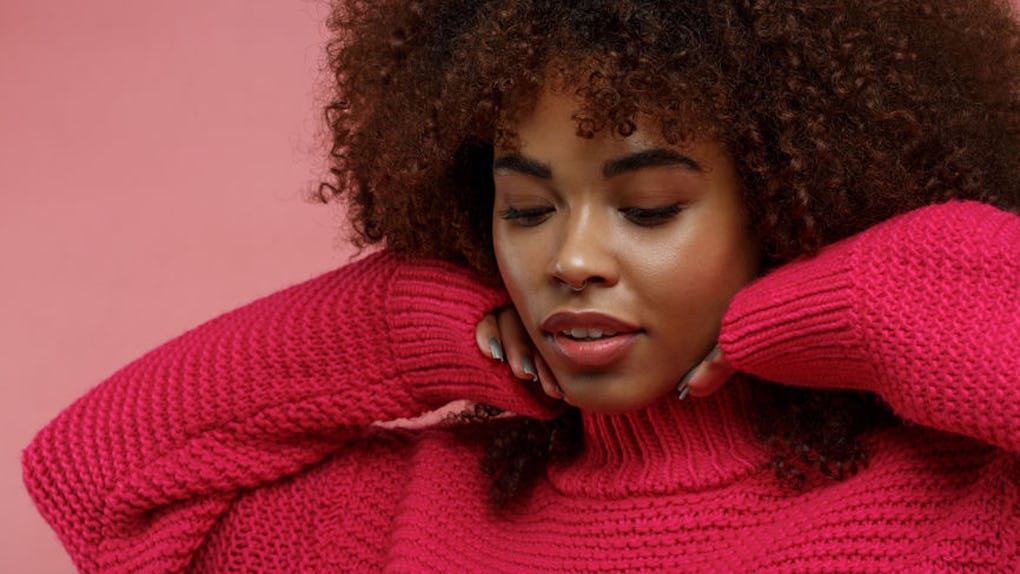 Leandro Crespi/Stocksy
22 Cute Captions For Oversized Sweaters, So Steal Bae's For A Selfie If You Have To
If you made a list of everything you love about fall, wearing an oversized sweater would definitely be at the top of that list. There's so much comfort and coziness embedded in the knitting, and you're so here for it. You'll be rocking one when you head to the apple orchard and pumpkin patch, so you should start taking note of captions for oversized sweaters, ASAP.
By now, you have the thick socks to match and a cute pair of boots to finish off your outfit. Oh, and you can't forget the adorable infinity scarf you've been longing to wear since you bought it. Having to wear layers of clothes might be inconvenient, but the coziness of oversized sweaters makes up for it.
Let's be real: Sipping a PSL is practically incomplete without your favorite oversized sweater to complete the fashion statement. They were sort of meant for each other. And if a PSL isn't your drink of choice, any toasty beverage will suffice.
For those lazy days when you can't seem to get off of the couch, you're likely bumming it in an oversized sweater. No worries, because you can still get a cute selfie or two during that downtime. If you're ready to live in a wardrobe of oversized sweaters this season, you'll appreciate all of these 22 captions.
1. "Sweater weather is the forecast for today, and I'm all for it." — Unknown
2. "Sorry for what I said when I wasn't wearing my oversized sweater." — Unknown
3. "Somehow, a comfy sweater tends to feel like home." — Unknown
4. "Eat, drink, and be as cozy as you want to be." — Unknown
5. "I'm on some next level comfort. You wouldn't understand." — Unknown
6. "There's no summer sadness an oversized sweater in the fall can't fix." — Unknown
7. "I don't know how to not smile when I'm wearing a comfy sweater." — Unknown
8. "Sweater, meet lazy days." — Unknown
9. "Comfort has reached maximum levels." — Unknown
10. "Taking naps in big sweaters is basically what I live for." — Unknown
11. "Oversized sweaters are like big hugs that never leave you or get cold." — Unknown
12. "I don't know fall without a big sweater, and who would want to?" — Unknown
13. "Why can't big sweaters be the mandatory uniform for adulting?" — Unknown
14. "You can't Netflix and chill without an oversized sweater to keep you warm, right?" — Unknown
15. "I'm not responsible for my laziness when I'm nestled in a big sweater." — Unknown
16. "This is the reason I put the "I" in coziness." — Unknown
17. "Oversized sweaters are little pieces of sunshine, even during the colder months." — Unknown
18. "There's an art to lounging around in clothing that's too big for you." — Unknown
19. "An unused sweater is a tragedy Shakespeare meant to write about." — Unknown
20. "No one puts baby in the corner, aka my comfy sweater."— Unknown
21. "Who knew so much comfort could come from one thing in my closet?" — Unknown
22. "I'm giving all of my big sweaters my undivided attention this season. They're the real MVPs." — Unknown
I don't need to tell you how the coziness is about to get so real. Oversized sweater season is almost here.