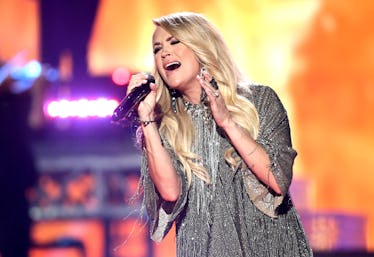 22 'Cry Pretty' Lyrics For Instagram Captions, So Get Your Waterproof Mascara Ready
Kevin Winter/Getty Images Entertainment/Getty Images
Two words: Carrie Underwood. If you've been listening to her "Cry Pretty" single since April, you were counting down the days for her entire album release on Sept. 14. The 13-track album is killing it in sales, so it's safe to say that Cry Pretty lyrics for Instagram captions are going to be a whole vibe. You're likely to catch a real case of the feels when listening to these tracks, so it makes sense you'll want to share your thoughts on Instagram.
Cry Pretty has actually surpassed Cardi B's record sales for a female artist in a week's time. And in the country music sphere, Underwood is making history, as well. Underwood is the first female country artist to land four No. 1 albums in Billboard 200's history. The singer is welcoming more than just praise these days for her recent musical accomplishments. She's expecting her second child with hubby Mike Fisher, and fans are extremely excited for a little more Carrie Underwood in the world. You'd think she'd have her hands full, right? Well, think again.
Starting in May 2019, Underwood will hit the road and start her tour dates across the country. That's right — you can actually "cry pretty" to all of your favorite tracks on her album. With tracks like "Backsliding" and "Love Wins," you'll have a tough time choosing between these 22 captions for your post.
1. "I'm sorry, but I'm just a girl." — "Cry Pretty"
2. "Long as it floats, we'll rock the boat." — "Southbound"
3. "This ain't a game. Nobody wins." — "Spinning Bottles"
4. "When things get ugly, you just gotta face that you can't cry pretty." — "Cry Pretty"
5. "I feel right at home with my ghosts on the stereo." — "Ghosts on the Stereo"
6. "Like a diamond ring without a stone. Like a guitar without a song." — "Low"
7. "There's a million reasons why we should be happy." — "Backsliding"
8. "Don't wanna feel that bass rattle in my bones." — "That Song We Used To Make Love To"
9. "You can buy me a beer, but you ain't taking me home." — "Drinking Alone"
10. "And we'll never fall if we walk hand in hand." — "Love Wins"
11. "It kills me, heals me, gets me, thrills me." — "That Song We Used To Make Love To"
12. "It's perfectly imperfect." — "Kingdom"
13. "Baby, we shouldn't be drinking alone." — "Drinking Alone"
14. "And if we're not meant to be, then why do we keep backsliding?" — "Backsliding"
15. "Love is the answer, love's an open door. Love is the only thing worth fighting for." — "Love Wins"
16. "I am invincible, unbreakable, unstoppable, unshakable." — "The Champion"
17. "Leave it up in the air. Give it up to chance. Seein' where it goes. Seein' where it lands." — "End Up With You"
18. "You can't cry pretty, baby." — "Cry Pretty"
19. "I'm a fighter like Rocky. Put you flat on your back like Ali." — "The Champion"
20. "We'll stay here 'til they make us go home." — "Drinking Alone"
21. "All I wanna do is end up with you." — "End Up with You"
22. "They knock me down, I get up again. I am the champion." — "The Champion"
Carrie Underwood has come a long way since her days on American Idol. You get a glimpse of her self-growth after each album she releases, and both country and pop fans will find something they love on this album.