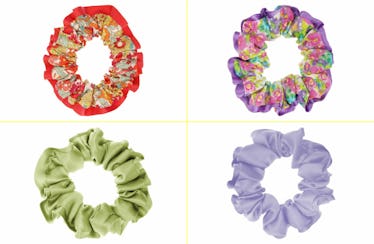 Scrunchies Will Be A Huge Trend In 2018, So Everything Comes Full Circle
I love it when things from decades past come back into style. They're like mini sartorial blasts from the past. While I typically prefer '90s era pieces (grungy floral dresses! Ray Bans! chokers!), one of my favorite 2018 hair trends actually features a very '80s accessory: the groovy AF scrunchie. Which, yes, definitely remained popular well into the '90s, too.
For spring 2018, Mansur Gavriel, the brand that rose in popularity thanks to its iconic black and red bucket bag, sent models down the runway sporting the retro accessory. Their hair was pulled back into low ponytails, and the scrunchies rested at the bases of their necks. Despite the collection's gorgeously vibrant color palette and to-die-for bags, it was the hair accessories that garnered the most buzz in the media, as they've been heralded as ugly and outdated since they fell from popularity in the '90s.
Then, for resort 2018, Balenciaga jumped on the scrunchie train, too, including jewel tone iterations in their collection. (Think yellow, green, and deep pink—as '80's as it gets!) And off the runways, celebrities including Bella Hadid (who was arguably the best-dressed girl of 2017, IMHO), Jennifer Lopez, and Selena Gomez have all stepped out with their hair pulled back by larger than life ties, too.
I say this all to prove that it's not just me and a few other nostalgic weirdos wishing the trend to once again be cool. Rather, it's some of fashion's most progressive tastemakers who are deeming it worthy of a second go-around; I'm just very here for it.
For one, I think that tasteful scrunchies can be an awesome way to add some personal style to a simple outfit, like jeans and a black t-shirt. I'm not talking those with dated prints or those that are so big they look like Saturn rings around your head, either. I'm talking scrunchies made of sleek silk or featuring tasteful prints or with cute embroidery details. They can take an outfit from drab to super unique with just a few twists of the wrist and cost way less than any designer handbag ever will.
What's more, they are ideal to wear at night when you're sleeping, as they won't cause your hair to kink or or get tangled while you're tossing and turning. They're super soft and easy on all hair types; if you take our advice and use them to create an overnight top knot, your hair will come out the next day looking way more voluminous and fresh.
I scoured the scrunchie market for the best options out there both for playing and snoozing in. Here are a few of my favorites below. They're, like, totally righteous. (God bless '80s slang.)
To Scale
This shimmery scrunchie reminds me of a scaley mermaid tail, but in the best way possible? It combines both velvet and sequins, which gives it a really funky yet upscale (for scrunchies) look to it.
Back to Basics
A la Bella Hadid! These guys are prefect to sleep in or to wear while running errands. Or, you know, while slaying the street style game.
Velvet Underground
These little guys remind me of the scrunchies I used to wear around my ballet buns as a kid. They're perfect for wintery months and would look amazing with a black turtleneck sweater and slicked back topknot.
Flower Bomb
A wreath of blooms to hold your ponytail up with—what's cuter than that?
Far Out
This shimmery version is perfect for all you holographic/ rainbow makeup lovers out there. Throw this on, swipe some Milk Makeup Stardust highlighter on your cheekbones, and prepare to look out of this world.