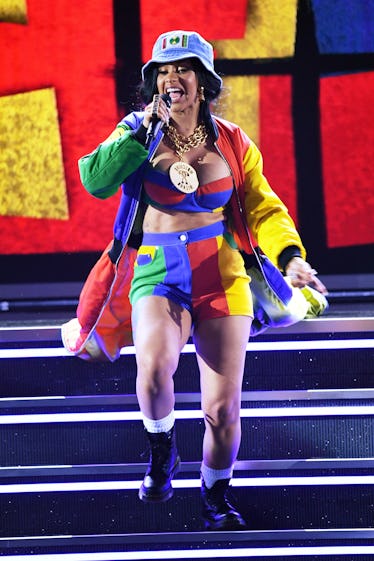 Cardi B's Outfit During Her Grammys Performance Just Became A Meme & I'm LOLing
Kevin Winter/Getty Images Entertainment/Getty Images
An iconic evening in the music industry took over Madison Square Garden in New York City on the last Sunday of January. Eager fans and social media connoisseurs alike know that any award show means memes are about to be lit AF. The 2018 Grammys memes about Cardi B's outfit will make you think comedians were literally standing by just to make everyone break out into uncontrollable laughter throughout the show.
Memes are where some of the funniest people bless the internet, and we are so here for them. Honestly, it has gotten to the point where we don't even know awards shows or anything involving celebrities without a trail of memes on our Facebook and Twitter feeds to follow. Hey, we have to find some way to stay entertained since our invite to these star-studded events seems to get lost in the mail or something.
Celebrities are only human, and between a fashion sense some of us can't relate to and little bloopers that happen throughout the night, they all make for meme potential. Oftentimes, these are things we never would have caught if it wasn't a meme or it's a mass thought was finally put into a unifying form.
Cardi B's performance with Bruno Mars was like stepping back into the '90s. From the dance moves to the clothes, it was super surreal for anyone who lived and adored everything about that time. Unfortunately, Twitter went down memory lane and brought Cardi B's outfit along with them as they compared it to rainbow objects from their childhood. I mean, is anyone ever really safe from the merciless opinions and critiques of Twitter? It just comes with the territory.
And as excited as we are to see some of our favorite singers and songwriters have their grand moments on stage, we are always waiting to see how someone perceived a particular moment we may have overlooked, and placed it in a meme. That's just the way things are these days. The Grammys are anything but dull, and these memes were some of the funniest things to look at as the spectacular show unfolded this year.