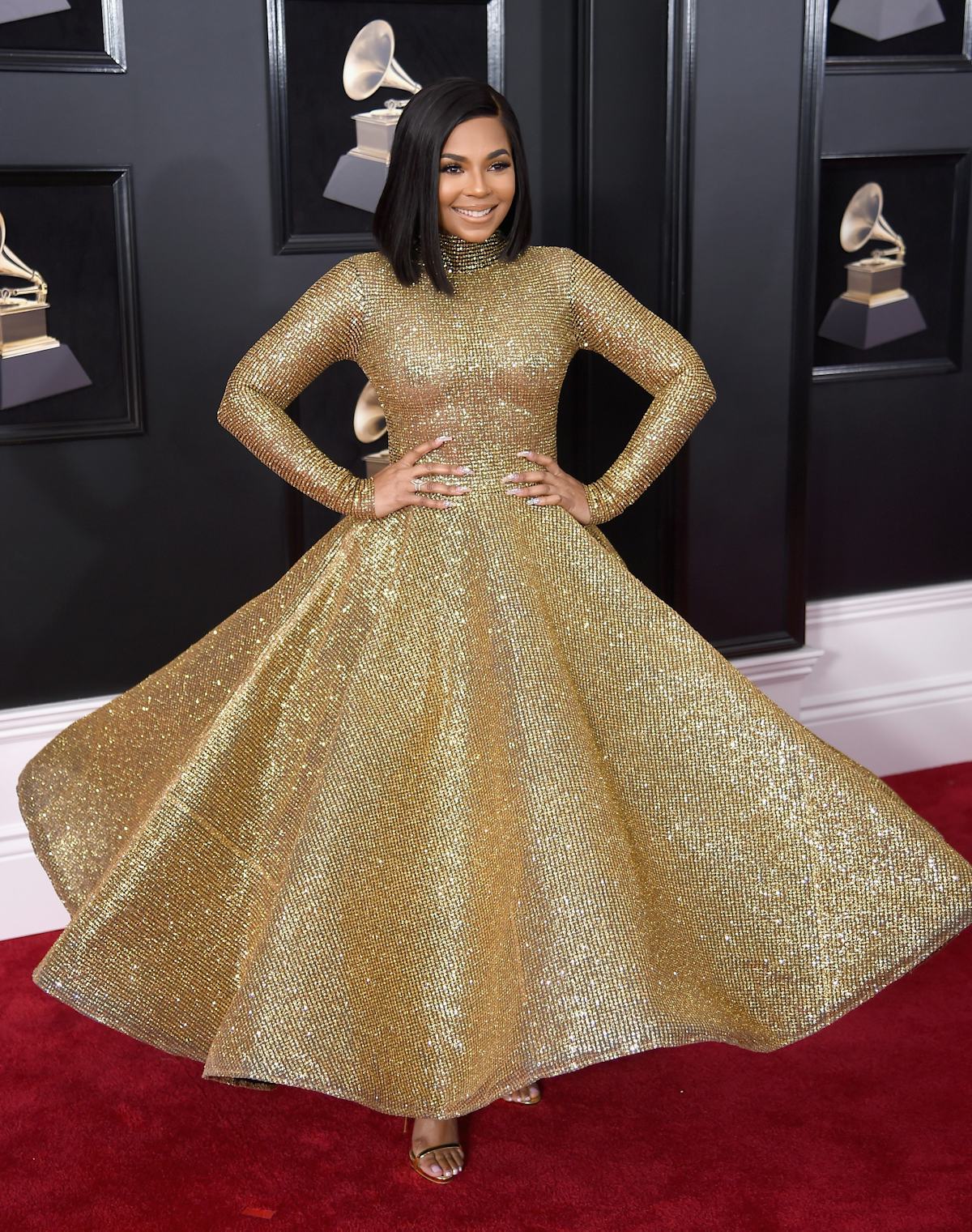 Ashanti Dressed Like An Actual Grammy & Twitter Is Dragging Her, But They're So Wrong
Dimitrios Kambouris/Getty Images Entertainment/Getty Images
I'm a major fan of Ashanti, because she kills the red carpet each and every time. But when she graced the red carpet at the 2018 Grammy Awards looking like an actual golden statue, tweets about Ashanti's Grammys dress were super harsh.
The singer pulled up to the 60th Grammy Awards at New York City's Madison Square Garden and she literally looked like the famous golden trophy. Although she wasn't nominated this year, she killed her look. I personally loved the dress. Fans are so used to Ashanti showing a bit of skin, but this dress is a different look from her standard outfits. I'm so here for the switch-up. Even though the flash was a bit unforgiving, I don't think she cared that much. I mean, her smile says it all!
The multi-platinum selling, Grammy-award winning singer and songwriter made music history in 2016 with a Guinness World Record holder for Fastest Selling Debut Artist (for a female), according to The Source. Her 2002 debut album Ashanti sold over 503,000 copies during its first week alone, with chart-topping classic hits like "What's Luv," "Baby," "Always On Time," and "Foolish."
And this look says it all:
Since the debut of that album, she's sold over 27 million albums worldwide, which makes her the most successful solo female R&B acts in history, according to Billboard. According to an Instagram post The Source found, Ashanti couldn't believe the success she had with her first album:
Wow I can't believe it's been 14 years!!! We made history selling 503,000 copies the first week. The biggest selling debut from a Female Artist Ever. I am truly humbled and truly grateful to have such amazing people to help make this happen!!! And thank you to my amazing fans for all the love and support!!! #murderincrecords #guinessbookofworldrecords #history #myfirstalbum #ashanti.
That's why it was a bit annoying to see people on Twitter drag her. I mean, seriously people, she's a musical icon. I don't think the early 2000s would be what it was without her influence. To this day, if an Ashanti song comes on, people can sing every word. Her influence is major, and I'm pretty sure it will be timeless.
"Walk into the group project celebration like you contributed anything the same way that ashanti comes to the grammys," said one user.
"Not here for Ashanti's look. Gives "Senior Breakfast". Next case." Uh. Harsh.
"Not to be rude but I'm actually surprised Ashanti gets invited to the Grammys," one user tweeted.
This user asked: "So, Ashanti doesn't make music anymore & just takes pictures?"
Negativity aside, loyal fans were still just as obsessed with the look as I was, thankfully. I totally would have started a Leave Ashanti Alone campaign. Back in March 2017, which, hello, really wasn't that long ago, Ashanti let fans know just how much her music career means to her in an interview with Harper Bazaar:
I think it definitely set the tone for who I am and what music resonates with females—and males too...It gave me the ability to grow and become more and more vulnerable as each album came out. It's funny because last night I was in Berlin and there were so many females that were like, 'This record saved my life,' and 'I've been following you since I was six' or 'since I was nine.' To see how records really penetrate, it's such a filling feeling.
She even has new music coming out which, if you haven't listened to her single "Lose Yourself," please do.
Let's just say, with me and Ja knowing each other for over 15 years, when I played him the record, he was like, 'Who's that? Yo thats you?' He made me start the record over! He was like, 'Oh my gosh, you gotta put that out tonight.' It's safe to say that it's very different and so dope. It's really a nice change. It's current, it's urgent. When you do put the two together, you're like, 'Damn it does sound like Ashanti, but something new, something 2017.
Rest assured Ashanti is totally not worrying about her haters, or a simple wardrobe malfunction!