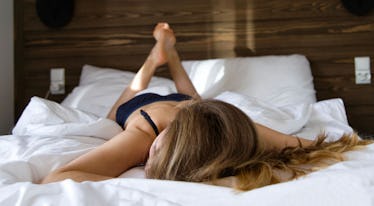 20 Women Describe The Last Sext They Sent, & Hello, It's Hot In Here
Have you ever sexted someone? Have you wanted to? Maybe you'd be into it, but you aren't really sure what to say. I mean, I totally get it. Sometimes the best way to understand the appeal of anything sexual, including sexting, is to hear a firsthand account from people who have actually done it. So, I asked women to describe the last sext they sent, not only because their stories can serve as inspiration for your own sext-y shenanigans — which of course they can — but also because it's hot hot hot.
Is sexting graphic and intense, or is it more lighthearted and flirty? Is it sending nudes, or just a series of eggplants and peaches? The answer, judging by the stories these women shared, is all of the above and more. There is no one way to sext; it really is something very personal and totally different from person to person. It can be anything from photos, to explicit instructions of what they have planned for bae later, to just a suggestive joke to start setting the mood. But enough of my analysis — let's see what these women said about their most recent sext, in their own words.