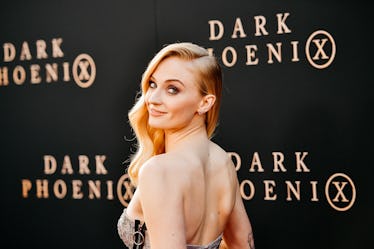 20 Sophie Turner Clapbacks That Were Brutal, But So True
Matt Winkelmeyer/Getty Images Entertainment/Getty Images
There's no denying that Sophie Turner wears a lot of crowns. Of her many identities, standouts include Sansa Stark, professional wine-chugger and, most importantly, clapback queen. Sophie knows sass better than the rest of us, and watching her dish it is always pure hilarity. The Game Of Thrones star may be an angel 99.9% of the time, but when she throws shade, it can sometimes (read: usually) be brutal AF. These Sophie Turner clapbacks are so witty that it's almost mind-blowing.
From not-so-subtle shade on Twitter to hilarious (but loving) jabs at her hubby, Joe Jonas, Turner has got some serious jokes under her belt. But she also gets serious, calling out racism, and instantly shutting down anyone who even dares to body-shame women on the internet. The famous funny gal may have been blessed with acting chops, but sometimes, I think she might have missed her true calling as a comedian. Few people on the internet do sarcasm better than Queen Sansa Stark and, at this rate, she's holding her own among the social-media elite. (Yes, that's you, Chrissy Teigen.)
So, please join me in reflecting on the most epic clapbacks Turner has gifted the internet through the years.