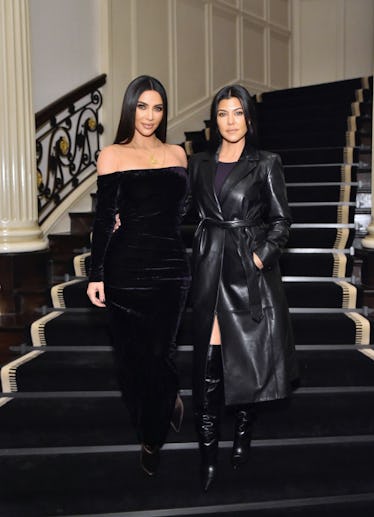 20 Photos Of The Kardashian Sisters Twinning That'll Blow Your Mind
Stefanie Keenan/Getty Images Entertainment/Getty Images
Over the past 15 years, the Kardashian family's looks have changed so much. What's always surprising, though, is how much they continue to resemble each other despite the constant switch-ups. Their facial features, height, and hair colors may change multiple times over the course of a month or two, but the siblings look remarkably similar regardless without fail. These 20 pictures of the Kardashians looking like twins will make you do a double take.
In order from oldest to youngest, Kris, Kourtney, Kim, Khloe, Kendall, and Kylie are all extremely unique in their own ways. That's why fans can't get enough of selfies and old snapshots of the women in the Kardashian klan in close proximity looking just like each other. Whether it's Kourtney and Kim or Kim and Kylie, there's been a lot of double takes over the years. And it's been many years. The women shot to fame in 2007 when Keeping Up With the Kardashians premiered on E!, and the twinning moments came pretty frequently from then on out.
So now that nearly 15 years have past since the Kardashian women first became household names, let's take a look back at photos of them looking like twins.