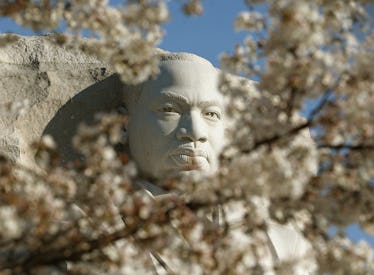 20 Martin Luther King Jr. Quotes That'll Empower & Inspire You
Mark Wilson/Getty Images News/Getty Images
When I hear the name Martin Luther King Jr., the first thought that immediately comes to mind is his "I Have A Dream" speech. Growing up, learning this speech and everything it stood for was a staple in my school's curriculum. His speech marked a pivotal moment in the Civil Rights Movement, and on Monday, Jan. 15, the country will take a day to celebrate him and the extraordinary changes his work inspired. He was the catalyst for not just a movement, but a revolution — and continues to be an influence for activists in 2018 (like those in the Black Lives Matter movement and those involved with the American Civil Liberties Union). We've rounded up Martin Luther King Jr. quotes, so you can take a thoughtful moment on this day to honor him.
Martin Luther King Jr. Day has been celebrated in the U.S. since 1986, when it was first officially declared a federal holiday. For many, it means a day off from work or school, or a Monday that won't call for an extra cup of coffee, but it's necessary to recognize the real intention and reason behind having the day off: paying tribute in a meaningful way to an uplifting social activist and human rights champion.
MLK Jr. preached for peace in every step of his work. The March on Washington on Aug. 28, 1963 remains one of the most historic political rallies in the American Civil Rights Movement and our nation's history. Thousands took to the Lincoln Memorial to fight for jobs, freedom, and equality for African Americans. That was the day MLK Jr. shared his iconic "I Have A Dream" speech, spelling out his vision for what our country could be if love trumped hate, education overcame fear, and hard work and appreciation produced peace.
In MLK Jr.'s memory, you can donate to a civil rights group like the National Association for the Advancement of Colored People (NAACP), take some time to read up on history and pick up a copy of MLK Jr.'s autobiography, or take a day trip and visit a museum like the National Museum of African American History and Culture in Washington, DC. Or maybe you and your friends want to volunteer your time. In that case, reach out to a local activist group and see what you can do to spark change and commit to social activism right in your own community.
In the meantime, you can read these remarkable MLK Jr. quotes as a reminder of the continued importance of his message and movement.
1. "Our lives begin to end the day we become silent about things that matter."
2. "If I cannot do great things, I can do small things in a great way."
3. "I have decided to stick with love. Hate is too great a burden to bear."
4. "No one really knows why they are alive until they know what they'd die for."
5. "The time is always right to do what's right."
6. "...the surest way to be happy is to seek happiness for others."
7. "Faith is taking the first step even when you don't see the whole staircase."
8. "I look to a day when people will not be judged by the color of their skin, but the content of their character."
9. "Only in the darkness can you see the stars."
10. "Everybody can be great, because anybody can serve. You don't have to have a college degree to serve. You don't have to make your subject and verb agree to serve... You only need a heart full of grace. A soul generated by love."
11. "Forgiveness is not an occasional act, it is a constant attitude."
12. "We must accept finite disappointment, but never lose infinite hope."
13. "No person has the right to rain on your dreams."
14. "There can be no deep disappointment where there is not deep love."
15. "Lightning makes no sound until it strikes."
16. "We have flown the air like birds and swum the sea like fishes, but have yet to learn the simple act of walking the earth like brothers."
17. "We may have all come on different ships, but we're in the same boat now."
18. "One day we will learn that the heart can never be totally right if the head is totally wrong."
19. "True peace is not merely the absence of tension; it is the presence of justice."
20. "If you lose hope, somehow you lose the vitality that keeps moving, you lose that courage to be, that quality that helps you go on in spite of it all. And so today I still have a dream."