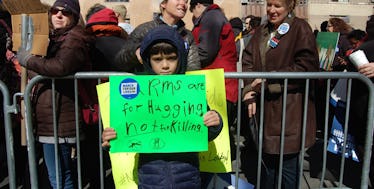 This Is What 20 March For Our Lifers Are Planning To Do With Their Lives
On Saturday, March 24, hundreds of thousands of students took to the streets to demand their own safety from guns. The March For Our Lives was orchestrated by the teenage survivors of a Feb. 14 shooting at Marjory Stoneman Douglas High School, and their call for gun reform clearly resonated with students across the country as March For Our Lives attendees showed up in various cities and towns to echo it.
Many of the speeches across the cities centered on what the victims of gun violence will no longer be able to do because their lives were cut short by guns. Those victims include Hadiya Pendleton, who was shot and killed in 2013 in Chicago, days after singing as part of the celebrations around Barack Obama's second inauguration.
"We will no longer let our stories end with guns," Nza-Ari Khepra, a senior at Columbia University and Pendleton's friend, said in her speech in New York. "We must and we will go out of our way to protect children's lives, even if the people in power will not."
With that idea in mind, I spoke with 20 of the young March For Our Life demonstrators in New York City about what they want to do with their lives, provided they are given that opportunity to grow up without being killed by a gun.