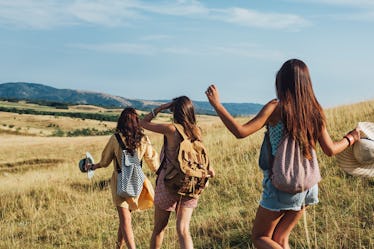 20 Instagram Captions For Studying Abroad, Because The Wanderlust Is Real
Grab your passport and pack your bags. Are you ready to embark on the adventure of a lifetime? Wanderlust will always find its way into life's lesson plan, and you deserve to explore everything the world has to offer. Studying abroad can be one of the most rewarding experiences you'll ever have if you make the most of your time there. While you're documenting your unique journey, coming up with Instagram captions for studying abroad pics should be a priority. How else will you express how ecstatic you are in that candid shot enjoying gelato by Florence's Arno River?
From the food to the breathtaking scenery around you, everything will be different than your university back home. The rules of the 'Gram still apply, though. If there are no pictures, it probably didn't even happen, right?
You're there for educational purposes, but you'll still wear the hat of an explorer and go on many excursions. You may only be in your new home for a few months, but the things you'll learn there will leave such an impact on your heart. Before that passport stamp ink dries, you'll need some caption inspiration for those breathtaking pictures.
1. "Twenty years from now you will be more disappointed by the things you didn't do than by the ones you did do. So throw off the bowlines. Sail away from the safe harbor. Catch the trade winds in your sails. Explore. Dream. Discover." ― Mark Twain
2. "Every dreamer knows that it is entirely possible to be homesick for a place you've never been to, perhaps more homesick than for familiar ground." ― Judith Thurman
3. "If we were meant to stay in one place, we would have roots instead of feet." ― Rachel Wolchin
4. "I do believe it's time for another adventure." — Unknown
5. "When we allow ourselves to explore, we discover destinations that were never on our map." ― Amie Kaufman
6. "The more you explore, the more you learn and grow." ― Nitesh Nishad
7. "Determination takes us to some interesting places." ― Efrat Cybulkiewicz
8. "Dare to explore. Dare to dream. Dare to discover. Dare to break the rules. Dear to leave. Dare to begin. Dare to live. Dear to love. Dare to be you." ― Oksana Rus
9. "Let the sea breeze blow your hair, let the sunset bring tranquility to your heart, let the distant places you travel allow you to explore yourself." ― Somya Kedia
10. "Dare to explore the beautiful places of the world." ― Lailah Gifty Akita
11. "I'll be off exploring, searching for those out-of-bounds places where dreams exist." ― Fennel Hudson
12. "One's destination is never a place but rather a new way of looking at things." ― Henry Miller
13. "Sometimes we must leave our true homes for something greater to come." ― Mary-Jean Harris
14. "Great journeys live long in the memory of those who participate in them." ― John Stein
15. "We have nothing to lose and a world to see." ― Unknown
16. "Life is not measured by the number of breaths we take, but by the moments that take our breath away." — Maya Angelou
17. "We are born to wander." — Unknown
18. "Salt air, cool breeze, adventure in my soul." — Unknown
19. "And then I realized adventure was the best way to learn." — Unknown
20. "I'll look back on this and smile because it was life and I decided to live it." — Unknown
Studying abroad is going to teach you many things about life and the world we live in. Most importantly, you'll be amazing by how much you learn about yourself throughout your journey. Bon voyage!