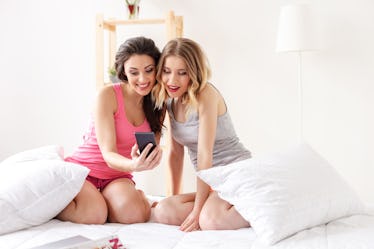 20 Instagram Captions For Your Next Girls' Night In, Because It's #Necessary
A night with your girls is one of the most therapeutic things to look forward to at the end of a long week. Sure, bar hopping and hitting the dance floor is enticing, but they're not the only ways to have fun with your squad. For those nights when the good vibes are flowing and you're watching your favorite movies with your crew, you'll need Instagram captions for girls' night in. The night can still be your oyster from the comfort of your living room.
Your girls' night in can be themed or happen by chance because all of your favorite ladies wanted to come over. Anywhere you guys are all together is more than just a good time. You get to catch up on girl talk, rock your favorite pajamas, put on a face mask or two, and munch on delicious snacks or baked goods. If this isn't cloud nine, then I truly don't know what is.
You know you need a girls' night when you're stressed out about work, want an adult beverage and genuine company, but don't want to deal with the overcrowded night scene. Your ladies are capable of bringing a one-of-a-kind night right to you, and you love them for that. I'm not asking for an invite or anything, but when you do have your infamous girls' night in, let any of these 20 captions score an invite as well.
1. "Squad means family and family means no one gets left behind." — Take on quote from Lilo & Stitch
2. "I'm a better person in this lovely circle of ladies." — Unknown
3. "Here's to the nights that turned into mornings, and the friends that turned into family." — Unknown
4. "Rollin' with the homies." — Unknown
5. "Friends who slay together, stay together." — Unknown
6. "You know we're gonna be legends tonight." — Unknown
7. "We go together like cupcakes and frosting." — Unknown
8. "Life is made of small moments like this." — Unknown
9. "No one will ever be as entertained by us as us." — Unknown
10. "You can't do epic sh*t with basic people." — Unknown
11. "There are so many beautiful reasons to be happy, and these ladies are mine." — Unknown
12. "Spend your life doing strange things with weird people." — Unknown
13. "Life is better with true friends." — Unknown
14. "Here's to strong women. May we know them. May we be them. May we raise them." — Unknown
15. "Good friends are like snowflakes. All different and all beautiful." — Unknown
16. "Friends are the family we choose for ourselves." — Unknown
17. "A good friends knows all your stories; a best friends helped you write them." — Unknown
18. "Best friends are people you can do anything and nothing with and still have the best time." — Unknown
19. "It's not that diamonds are a girl's best friend, but it's your best friends who are your diamonds." — Gina Barreca
20. "Some people make your laugh a little louder, your smile a little brighter, and your life a little better." — Unknown
Life is grand with your best friends by your side. Grab your favorite ladies, and plan a girls' night in you'll never forget.