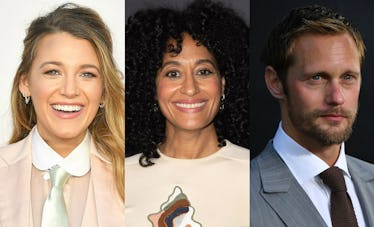 20 Celebrities Who Have Famous Family Members You Never Would Have Guessed
Jeff Spicer/Earl Gibson III/Neilson Barnard/Getty Images
How do people get famous? There are a couple of ways. Sometimes, it's the result of years of hard work and burning the candle at both ends until, one day, preparation meets opportunity and you catch a big break. Other times, it's because you were born into a famous family. *Shrugs*. That's not to say people born into famous families don't work hard for their own success, but these celebrities who have famous family members definitely started with a leg up above the rest.
Some celebrities are well known for their famous family members. Take Miley Cyrus, for example, who starred on Hannah Montana with her father, country singer Billy Ray Cyrus. Some celebrity family ties, however, are truly mind-blowing to learn. Let's not forget that Hollywood is a big small town, and famous people marry other famous people all the time. That leaves a lot of room for famous step-parents, famous in-laws, famous half-siblings, the works. Some celebrities come from a family full of other famous people, as well. (Looking at you, Skarsgårds.)
So here all of the famous people you probably already knew were born into famous families, and people whose famous families only grew larger thanks to everyone in Hollywood marrying each other.
1. Tracee Ellis Ross
Tracee Ellis Ross is the daughter of music icon Diana Ross. The Black-ish star's brother, Evan Ross, is married to Ashlee Simpson, making Ashlee Simpson Tracee Ellis Ross' sister-in-law. That also means Tracee Ellis Ross and Jessica Simpson are co-aunties to Evan Ross and Ashlee Simpson's child, Jagger Snow Ross.
2. Rashida Jones
Rashida Jones is also the daughter of a music icon. Her father is Quincy Jones, one of the most successful music producers of all time. (She directed Quincy, a documentary about her father's personal life and music successes that recently debuted on Netflix.) Her mother is model Peggy Lipton.
3. Dakota Johnson
Dakota Johnson was born into a famous family whose Hollywood history goes way back. Her mother is Melanie Griffith of Working Girl fame, and her father is Don Johnson of Miami Vice. Melanie Griffith's mother is Tippi Hedren, famous for her role in The Birds.
Oh, and Antonio Banderas was married to Melanie Griffith for nearly 20 years. He is the father of Johnson's half-sister, Stella Banderas, making him another one of Johnson's famous family members.
4. Miley Cyrus
I don't know any millennial who doesn't know this, but Miley Cyrus' father is country singer Billy Ray Cyrus, and Dolly Parton is her godmother. Noah Cyrus, Miley's younger sister, has recently started to make a name for herself in music as well.
5. Emma Roberts
The American Horror Story star has more than just her last name in common with Julia Roberts. The Pretty Woman icon is Roberts' aunt! Julia Roberts' brother, Eric Roberts, is Emma Roberts' father. Keeping it all in the family.
6. Zoë Kravitz
Other than being the daughter of famous parents Lenny Kravitz and Lisa Bonet, the Fantastic Beasts actress is related to Al Roker on her father's side. Yup, Lenny Kravitz's mother was the late Roxy Roker of The Jeffersons fame, tying Lenny and Al Roker together as cousins. (They share a great-great-grandfather.)
Zoë Kravitz has a famous family on her mother's side, as well. Get this: Lisa Bonet is married to Jason Mamoa, making Aquaman/Khal Drogo himself Zoë's step-father.
7. Emily Blunt and Stanley Tucci
Emily Blunt and Stanley Tucci started out as co-workers on The Devil Wears Prada. Then Emily Blunt and John Krasinski's 2010 wedding introduced Tucci to Blunt's sister, Felicity, and they got married just two years later. The devil wears Prada and also finds people spouses!
8. Jessica Capshaw
The actress is best known for her performance as Arizona Robbins on Grey's Anatomy, but you might be surprised to learn that Steven Spielberg is her step-father. Yup! Capshaw's mother, Kate Capshaw, married the famed director in 1991.
9. Alexander, Stellan, Gustaf, and Bill Skarsgård
Yup, Pennywise's older brother is Alexander Skarsgård, and their dad is Stellan Skarsgård, aka Bill in Mama Mia and Bootstrap Bill Turner from Pirates of the Caribbean (he has an affinity for Bills).
In fact, most of Stellan Skarsgård's kids are actors. Gustaf Skarsgård is known for Vikings and most recently appeared on the second season of Westworld. Bill Skarsgård played Pennywise the Dancing Clown in the It reboot, and also stars in the Stephen King Hulu series Castle Rock. You know Alexander Skarsgård for True Blood and Big Little Lies. Their only sister, Eija Skarsgård, works as a model, and the only Skarsgård sibling not to be an actor is Sam Skarsgård. He — like their mother, My — is a doctor in Sweden.
10. Christian Bale
Nicholas Hunt/Getty Images Entertainment/Getty Images
Theo Wargo/Getty Images Entertainment/Getty Images
GLORIA STEINEM USED TO BE CHRISTIAN BALE'S STEP-MOTHER! Sorry, I just really needed to yell that. I'm in shock. The iconic feminist, who previously stated earlier in her career that marriage was a "model for slavery law in this country," married animal rights activist/Christian Bale's father David Bale in 2000. He died of lymphoma three years later.
11. Elle King
Frazer Harrison/Getty Images Entertainment/Getty Images
Monica Schipper/Getty Images Entertainment/Getty Images
UM, WHY DID NO ONE TELL ME ELLE KING IS ROB SCHNEIDER'S DAUGHTER? The f*ck?! The singer doesn't talk about her father much, most likely because she wants people to focus on her music and not her famous family.
12. Ellen DeGeneres
Would you believe me if I told you that Ellen DeGeneres and Kate Middleton are cousins? Probably not, but they are! Very distant, distant cousins.
Back in 2011, leading up to Prince William and Kate Middleton's wedding, DeGeneres learned (and subsequently revealed on her show) that she and the Duchess of Cambridge share a relative.
"I got a letter. This is from the New England Genealogical Society, which of course, I thought was from my lady doctor," DeGeneres joked, adding,
Hold onto your crumpets, everybody. This is exciting. This is true. 'Dear Ellen, our trusty genealogists have been at work on Kate Middleton's genealogy with the big royal wedding coming up. As we were doing the research, we discovered that you're related to Kate via a man named Sir Thomas Fairfax and his wife Agnes Gascoigne. You are distant cousins. You're 15th, but cousins still the same.
Something in me always knew Ellen DeGeneres was actual royalty.
14. Blake and Robyn Lively
Blake Lively and Teen Witch and Twin Peaks actress Robyn Lively are sisters! (TBD on whether they have traveling pants.)
15. Katherine Waterston
The Fantastic Beasts star is the daughter of Sam Waterston of Law & Order and Grace & Frankie fame. Yes, I consider Law & Order and Grace & Frankie to be of equal pop culture importance.
16. Josh Brolin
THANOS' STEP-MOTHER IS LITERALLY BARBRA STREISAND. Had to scream that one too. His father is actor James Brolin, who has been married to Streisand since 1998.
17. Billie Lourd
The American Horror Story actress is the daughter of the late Carrie Fisher, aka Princess Leia from Star Wars. Fisher's mother, aka Lord's grandmother, was Debbie Reynolds, aka, Grandma Aggie from Halloweentown.
18. Kaia Gerber
Kaia Gerber is the daughter of supermodel Cindy Crawford. She's following in her model mother's footsteps as she paves her way in her own modeling career.
19. Amy Schumer
The comedian has a famous cousin in Chuck Schumer, the New York Senator who has been the Senate Minority Leader since 2017. The cousins teamed up in 2015 to act against gun violence after two people were killed at a shooting that occurred during a showing of her movie Trainwreck. They held a joint press conference addressing the tragedy and revealing the senator's plan to fight for common sense gun control.
20. Beanie Feldstein
Despite the different last names, Beanie Feldstein has a famous older brother in Jonah Hill! Their older brother, Jordan Feldstein, died in December 2017, but he was Maroon 5's manager when they were first starting out, basically making Adam Levine an honorary older brother for Feldstein. She appeared in his "Girls Like You" music video in the summer of 2018.
Celebrities: Keeping their fame in the family since, well, forever.