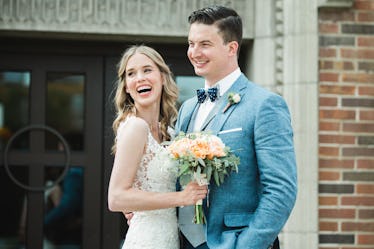 20 Salty Captions You'd Love To Post On Your Ex's Wedding Day, Because You're Not Bitter
A picture of your ex with someone new is enough to make you stop, scroll, and search until you find all the answers. You just want to know who the new squeeze is, am I right? And if this relationship blossoms into wedding bells, you likely aren't expecting an invite, but you may have a few thoughts for the happy couple. (Although you should never actually deliver them, it's relatable AF to know we've all been there before.) You don't have to write down the captions you'd post on your ex's wedding day, but you can have a laugh reading through these (especially if your ex so clumsily broke your heart and never apologized for it, but I digress).
Let's be real: Everyone has exes, and those exes aren't going to remain single forever. (No matter how much you wish they had time to be alone and think about the true gem-of-a-woman they lost.) Your ex is eventually going to tie the knot with someone, and you'll have to deal. It happens to the best of us. Of course, you've probably moved on as well, but there may be that little voice inside your head that's feeling a tad on the *salty* side.
Let your ex's wedding day be complete closure. Your ex is an ex for a reason, after all. If you could use your words, you'd congratulate your ex on their oh-so-special day. Any of these 20 captions should reiterate how stoked you are... that you aren't the other person who is saying "I do."
1. "Good riddance! I'll drink to that." — Unknown
2. "I love happy endings, especially the ones where your heart gets stomped on beforehand." — Unknown
3. "Let's hope he can make her smile like this in the long run." — Unknown
4. "You have to learn to get up from the table when love is no longer being served." — Nina Simone
5. "If a nightmare had two legs and wore a tux. I'm just saying." — Unknown
6. "I could have another you in a minute. Matter fact, he'll be here in a minute." — Beyoncé, "Irreplaceable"
7. "Saving my wedding day for a real one." — Unknown
8. "The best revenge is just moving on." — Unknown
9. "I'm living my best life... not in all white." — Unknown
10. "Congrats! P.S. Stop drunk texting me." — Unknown
11. "Let's hope he can remember his lines." — Unknown
12. "I hope you're happy because I'm likely happier." — Unknown
13. "I'll forgive and forget when you give me my sweater back." — Unknown
14. "Don't raise your glasses too high. He's not the best at reaching expectations. Sorry, not sorry." — Unknown
15. "I guess I dodged an 'I do'?" — Unknown
16. "That dress is so me! The groom? Not so much." — Unknown
17. "Thank you for being the reason I know my worth... and what flowers I want at my wedding now." — Unknown
18. "The heart wants what it wants." — Selena Gomez
19. "Honey, the best is yet to come. You just wait for it." — Unknown
20. "You can't want someone who was never truly yours in the first place." — Unknown