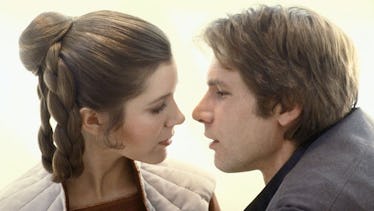 18 'Star Wars'-Inspired Wedding Photos That Are Out Of This Galaxy
Star Wars is... well, it's a lot of things. It's a space epic, a grand intergalactic adventure, a lesson in fighting back against fascism, and it also happens to be one of the greatest love stories ever told. And no, I'm not talking about Padmé and Anakin. I mean Han and Leia. (Although Poe and Finn is also an acceptable answer, fingers crossed!) So, of course, it just makes sense that couples who love Star Wars want to make it a part of their wedding day. Plus, it doesn't hurt that Star Wars-inspired wedding photos are kind of the best wedding photos. They're just so fun, and and the aesthetics of the series are actually really gorgeous.
Don't believe me? Well, feast your eyes on the below wedding photos of couples who embraced the Force (or the Dark Side) on their wedding day. They just may change your mind and consider taking some inspiration for your wedding day from "a long time ago in a galaxy far, far away." Plus, let's be honest, Leia is pretty much forever hair goals. With that said, here are several Star Wars-themed wedding photos that are truly out-of-this-galaxy-level adorable.