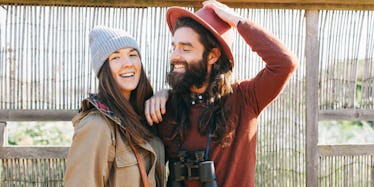 18 Quotes About Love In The Fall, Because It's The Dreamiest Season Of Them All
The changing leaves, crisp air, evergreen pumpkin scent, and cozy vibes all just add to the magic that is falling in love during the autumn season. There are movie quotes, song lyrics, and celebrity quotes where people attribute catching feelings to the total loveliness of the season. The following quotes about love in the fall perfectly encapsulate how autumn is just made for falling in love.
Besides the fact that wanting to settle down and connect with someone is actually proven to be tied to cuffing season, the aesthetic vibes of fall itself create such a beautiful atmosphere, which make it just so easy to fall for someone.
The following quotes are all about falling in love during fall, keep reading for more.
1. "When you realize you want to spend the rest of your life with somebody, you want the rest of your life to start as soon as possible." — When Harry Met Sally
2. "Every leaf speaks bliss to me, fluttering from the autumn tree." — Emily Bronte
3. "If the leaves are changing, I feel poetry in the air." — Laura Jaworski
4. "Oh your sweet disposition/And my wide-eyed gaze/We're singing in the car getting lost upstate/Autumn leaves falling down like pieces into place/And I can picture it after all these days." — Taylor Swift
5. "And all at once, summer collapsed into fall." — Oscar Wilde
6. "Even if something is left undone, everyone must take time to sit still and watch the leaves turn." — Elizabeth Lawrence
7. "Float down/Like autumn leaves/And hush now/Close your eyes/Before the sleep." — Ed Sheeran
8. "Autumn is a second spring when every leaf is a flower." — Albert Camus
9. "And the sun took a step back, the leaves lulled themselves to sleep, and autumn was awakened." — Raquel Franco
10. "Oh, the days dwindle down to a precious few. September, November And these few precious days I'll spend with you." — Frank Sinatra
11. "I notice that Autumn is more the season of the soul than of nature." Friedrich Nietzsche
12. "Life starts all over again when it gets crisp in the fall." — F. Scott Fitzgerald
13. "It looked like the world was covered in a cobbler crust of brown sugar and cinnamon." ― Sarah Addison Allen
14. "Autumn in New York, why does it seem so inviting? Autumn in New York, it spells the thrill of first-nighting." — Ella Fitzgerald & Louis Armstrong
15. "No spring nor summer beauty hath such grace as I have seen in one autumnal face." ― John Donne
16. "Winter is an etching, Spring a watercolor, summer an oil painting, and autumn a mosaic of them all." — Stanley Horowitz
17. "Every leaf speaks bliss to me, fluttering from the autumn tree." — Emily Bronte
18. "Falling autumn leaves gave the air an amber hue as though seen through a jar of honey." ― Paula Wall
So if you don't mind me, I'll be all cozied up in a corner listening to Taylor Swift's Red album, the ultimate fall season collection of songs, and enjoying some hot apple cider by a fireplace wearing fuzzy socks. Fall AF.