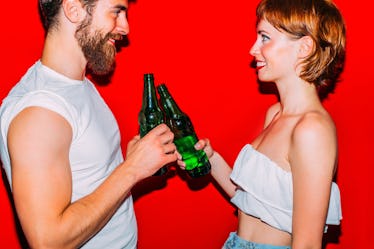 18 Statements About Dating, Relationships, & Love To Use During "Never Have I Ever"
When you've got a crush or a new cutie has caught your eye, you probably will want to know everything about them from their zodiac sign to what they had for breakfast. Those questions are easy enough to answer, but what about the really juicy stuff like if they've ever had their heart broken and if they believe in true love? Why not suggest playing a game and use "Never Have I Ever" statements about relationships to get your answers?
Never Have I Ever is a super fun game to play with both strangers and people you've known forever because you never know what people will say! It's also great when you're in a new-ish relationship because you can really learn a lot about someone in a fairly chill way. Asking during a game is a fun and less invasive way to do some digging, and is much less intense than a straight-up interrogation. Of course, you might not think there's anything's strange about being a few dates in with someone and being like, "Hi, do you believe in marriage, how's your relationship with your mother, and have you ever cheated on someone before?" But if you'd like to take a more relaxed and subtle approach, consider asking these following statements to sate your curiosity!