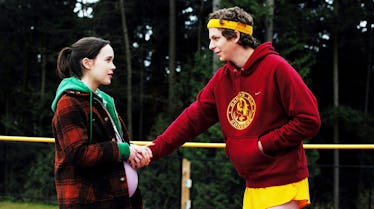 18 Movie Quotes About Relationships That Sum Up How You Feel About Love
I'm not exactly what you would call the biggest romantic. For the most part, I find movies about love to be cheesy. I'd take a horror film over a romantic comedy any day. But once in a while, there are films that have something to say about love that is so real, even I get choked up. That's because movies aren't just entertainment — they can also be a mirror. They can make you reflect on where you are right now and give you a vision of what you want in the future. And sometimes, movie quotes about relationships stay with you forever because they speak to a real truth about life and love, that can bring out the secret romantic in anyone.
To me the best quotes about love aren't just flowery and sweet, but really speak to the nuances of the emotion, the pain, the longing, and the fear of making yourself that vulnerable. Because letting yourself love someone is brave and human, and knowing that someone feels that way about you too is powerful. OK, maybe I am a little bit of a romantic. Below, some of the most powerful quotes about love and relationships from movies that really got it right.