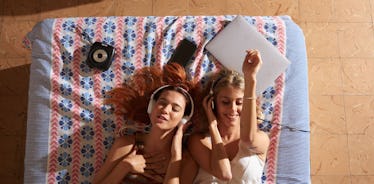 17 Song Lyrics About Travel That'll Perfectly Speak To Your Wandering Soul
Some songs just capture your wanderlust in an effortless way. Music has the capability of being the soundtrack to your life. Sometimes you may have a hard time putting your feels into words, so there's no better feeling than finding a song that can do it for you. Music has a way of lifting you up or comforting you when you're feeling blue. If you've caught an incurable case of the travel bug, then you'll be happy to know that there are some songs that'll speak to your wandering soul. These song lyrics about travel will capture your wanderlust and hold you over until your next journey.
Every travel lover has a favorite book or movie that inspires them to explore. Do you have a special song that fuels your wanderlust? We all want to hit the road, and many songs exist to capture that desire. Most of us don't have the desire to travel 24/7, so these songs make it easier to wait. They'll keep you excited for that big trip you have planned. They'll keep you dreaming until the day you're able to cross those goals off of your travel bucket list. Sometimes, the wait can feel unbearable, but these travel lyrics will make things a little easier until your next fix.
1. "Never looking down I'm just in awe of what's in front of me" — Empire of The Sun, "Walking On A Dream"
2. "See the world in green and blue. See China right in front of you. See the canyons broken by cloud." — U2, "Beautiful Day"
3. "We are always running for the thrill of it thrill of it." — Empire of The Sun, "Walking On A Dream"
4. "Wanna feel the warm breeze. Sleep under a palm tree. Feel the rush of the ocean. Get on board a fast train. Travel on a jet plane, far away." — Kelly Clarkson, "Breakaway"
5. "Tell everybody I'm on my way. New friends and new places to see. With blue skies ahead, yes I'm on my way." — Phil Collins, "On My Way"
6. "I wish that I could fly, into the sky, so very high, just like a dragonfly. I'd fly above the trees, over the seas in all degrees, to anywhere I please." — Lenny Kravitz, "Fly Away"
7. "Take me on a trip, I'd like to go some day. Take me to New York, I'd love to see LA. I really want to come kick it with you." — Estelle and Kanye West, "American Boy"
8. "I may not know it. But these are the moments that I'm going to remember most, yeah." — Miley Cyrus, "The Climb"
9. "We were staying in Paris. To get away from your parents. You look so proud, standing there with a frown and a cigarette, posting pictures of yourself on the Internet, out on the terrace." — The Chainsmokers, "Paris"
10. "I live for the nights that I can't remember with the people that I won't forget" — Drake, "Show Me A Good Time"
11. "If you like piña coladas and getting caught in the rain." — Rupert Holmes, "Escape"
12. "But hold me fast, hold me fast, cause I'm a hopeless wanderer." — Mumford & Sons, "Hopeless Wanderer"
13. "Woke up in London yesterday, found myself in the city near Piccadilly." — OneRepublic, "Good Life"
14. "They call me the wanderer." — Dion, "The Wanderer"
15. "You belong among the wildflowers, you belong in a boat out at sea. Sail away, kill off the hours. You belong somewhere you feel free." — Tom Petty, "Wildflowers"
16. "Gonna travel, gonna travel wild and free. I'm gonna pack my bags because this great big world is calling me" — Elvis Presley, "Harem Holiday"
17. "I wanna kiss you in Paris. I wanna hold your hand in Rome" — Madonna, "Justify My Love"