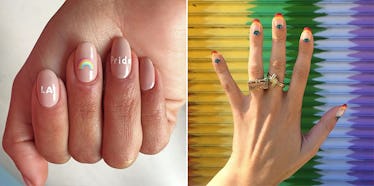 17 Rainbow Manicures To Celebrate Pride All Month Long
oliveandjune, mpnails on Instagram
Being the beauty junkie that I am, I use nail art, makeup, and my hairstyles to express myself — I always have. I usually wear glittery eye shadow on New Year's Eve, red lipstick on Valentine's Day, and in June, I wear rainbow nail art in honor of Pride Month. Though I'm not a member of the LGBTQ community, I support it wholeheartedly, and a colorful mani is an easy (not to mention a cute) way to show that I stand with every single member.
Although I can't say that I relate to the struggles of the LGBTQ community, I was raised to respect people of all backgrounds and beliefs. When I was in middle school, I never took on the role of a bully — I always hated the concept of bullying — lucky for me, because if my parents ever heard I was teasing other children, I'd be in so much trouble. That's exactly how I've always planned to raise my own children.
Now that I'm older, bullying seemed like a thing of the past. I'm married now, and I believe everyone, no matter their sexual preference, has the right to marry the love of their life, too. I never understood why anyone (the government, onlookers, anyone) felt the need to try and dictate who someone else should and shouldn't love. Then, I realized, bullying isn't some middle-school issue — it still exists among adults.
In a world full of bullies, I stand with the LGBTQ community — rainbow manicure and all. In the spirit of love and in honor of Pride Month, here are 17 rainbow manicures to copy. It's a small gesture, but it shows your support in a festive and fun manner.
Not only is this mani a handful of rainbows, but the colors are made up of sparkles — and heart-shaped sparkles at that!
French tips might be outdated, but a cloud on every tip is an update to the OG nail art look. Complete your mani with festive rainbows weaving in and out of the clouds.
Looking for a nail art look that will make you melt? I think we found it.
Swap a popular nail art look (like pointed tips, outlines and negative space) for a techicolored version.
Channel your sweet side with a rainbow mani painted in pastel shades.
If nude is your manicure color of choice, step up your game with a single stripe across the center of your nails. Make that line a rainbow, and you got yourself a Pride Month manicure that still feels like you.
Ouline every nail with different color sequins for a look that is fun, festive, and sparkly, but also kind of minimalist at the same time.
The clouds are raining glitter. I mean, come on!
Who said ombre was dead? Incorporate every color of the rainbow and make every nail an accent nail.
Yasssss!
They're like mini Pride flags on every one of your nails.
Go that extra step and include the name of your city in your Pride Month mani.
It's all about placement. Split the rainbow in half for one really cool looking manicure.
I'm obsessed with these clear nail tips in every color of the rainbow.
There's something super retro feeling about this black and rainbow manicure, but it's especially relevant right now.
Colored cuticles? Why not.
When in doubt, pain every nail a different color of the rainbow.
Now that you have the inspiration, call up your nail tech, nab your Pride Month mani and get out there and celebrate our LGBTQ brothers and sisters. Happy Pride!