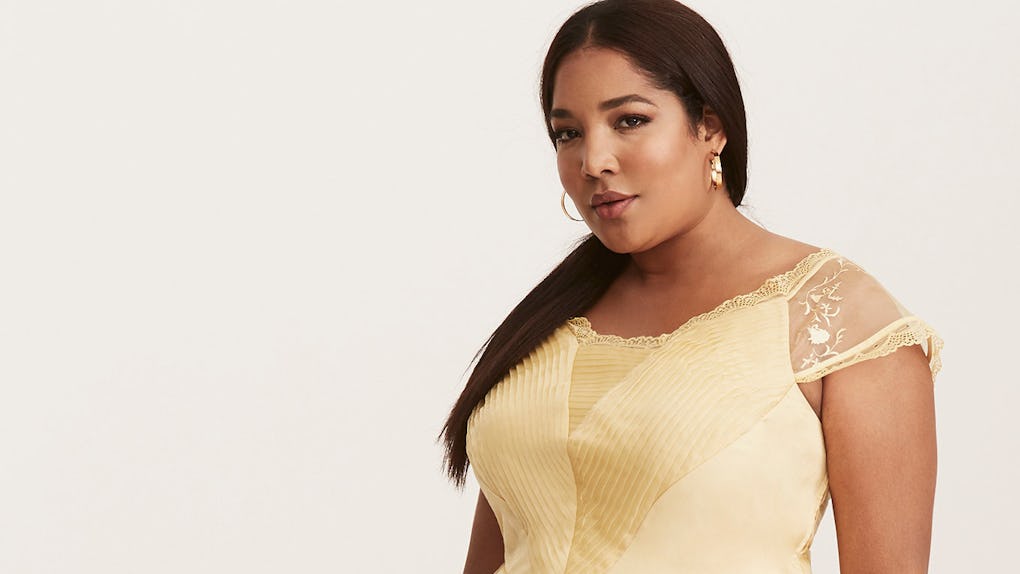 Torrid
17 Plus Size Halloween Costumes That Aren't Just Watered Down Versions Of Their Straight Size Counterparts
Shopping for anything remotely niche in plus sizes is generally a surefire way to break out in a stress rash, and that includes plus size Halloween costumes. While the straight size market produces everything from sexy Edward Scissorhands ensembles to authentic-looking, 17th century-inspired gowns à la Outlander, the plus size scene is usually a heck of a lot more watered down than all of that.
We don't usually get to be sultry nurses in slinky minis. Instead, we are told to don full-length, shapeless, clinical-looking shifts. We don't get Wonder Woman's corseted bodysuit. Nah. We get an A-line, knee-length version of the iconic look. And forget a meticulously-crafted, hand-embellished witch's dress. Why not rock a saggy, pointed hat and black tarp instead?
As with a lot of plus size fashion (still, regardless of how popular the phrase "body positivity" may be in retail and mainstream media), there exists a myth in the world of curvy costumes. It's as though the designers assume that fat babes don't want to show some leg. That we don't want to adhere to conventional tropes of sexiness — not even on Halloween. That we want to be modest. That we want to hide our bodies in shame, including every roll that comes with them.
For a lot of us, this simply isn't true. Not even a little bit. The following plus size Halloween costumes will hopefully be refreshing gems in a sea of cringey, outdated tulle and taffeta. They don't feel like diluted incarnations of cooler straight size versions. They're just as cool themselves.
2. Leggy Witch
Black Magic Mistress (Sizes 1XL-4XL), $63, Leg Avenue
Every '90s kid who loved Hocus Pocus or Harry Potter has likely dreamt of becoming a witch. Let spectators be enchanted by your dark magic and luscious legs alike. This detailed, mystical costume is not holding back, and neither should you.
5. Belle Of The Ball
Disney Beauty And The Beast Belle Halloween Ball Gown (Sizes 10-30), $109, Torrid
Emma Watson's yellow ballgown in the live action version of Beauty And The Beast was arguably one of the most beautiful, impeccably made fashions in recent cinema. More budget-friendly, but no less stunning, adaptations of the dress have been everywhere this Halloween — at least in straight sizes. Now's your chance to have something just as gorgeous, if a bit more practical, than Belle's look in plus sizes.
12. Welcome To Twin Peaks
Halloween 'Twin Peaks' Waitress Dress (Sizes 10-26), $35, Torrid
Does the Twin Peaks revival still have you on-edge? Do you spend your evenings wondering what on earth has become of Agent Cooper? Do you wish you yearn to taste those fine cups of coffee from the Double R Diner? Then this ensemble is definitely the one for you.
17. Ahoy, Mateys
4-Piece Black Sea Buccaneer (Sizes 1XL-4XL), $63, Leg Avenue
You may not be sailing the open seas this Halloween, but you can certainly look ready for the job. This buccaneer costume will make you feel like an extra in Pirates Of The Caribbean, but with even more style than Elizabeth Swann.
With costumes such as these in your arsenal, there's no season to allow your Halloween be swallowed up by another shapeless, yawn-inducing look. Let yourself be unique, weird, sexy, or utterly iconic. You deserve it all.