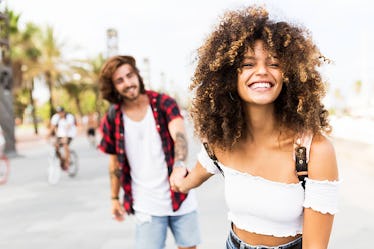 17 People Reveal The Lessons They Learned After Their First Relationship, & They're Intense
Breakups are never easy, but if there is one positive thing about them, it's that they can teach you a lot about yourself, about what you want from future relationships, and, sometimes, about people in general. When you think about it like this, in the long run, breakups are kind of amazing. If you don't believe me, just look at how folks on Reddit responded when they were asked about lessons they learned after their first relationship. Some of them were moving, some were painful, but all were actually pretty profound. Heartbreak, it seems, is a harsh but incredible teacher.
But before we get too far along, I want to reflect a little bit about my first relationship lesson. When I think back to my earliest real breakup, the lesson I learned is that you can take the boy out the carnival, but you can't take the carnival out of the boy. And someday, no matter how much he tells you he's not about about that carnie life anymore, he's probably lying. Which is why, one night, he's going to call you and break up with you by saying he's going back. The lesson is: Find yourself a partner who isn't so nomadic. And, yes, this is a true story.
But enough about me. Let's see what important insights other people have had after their first relationships ended.