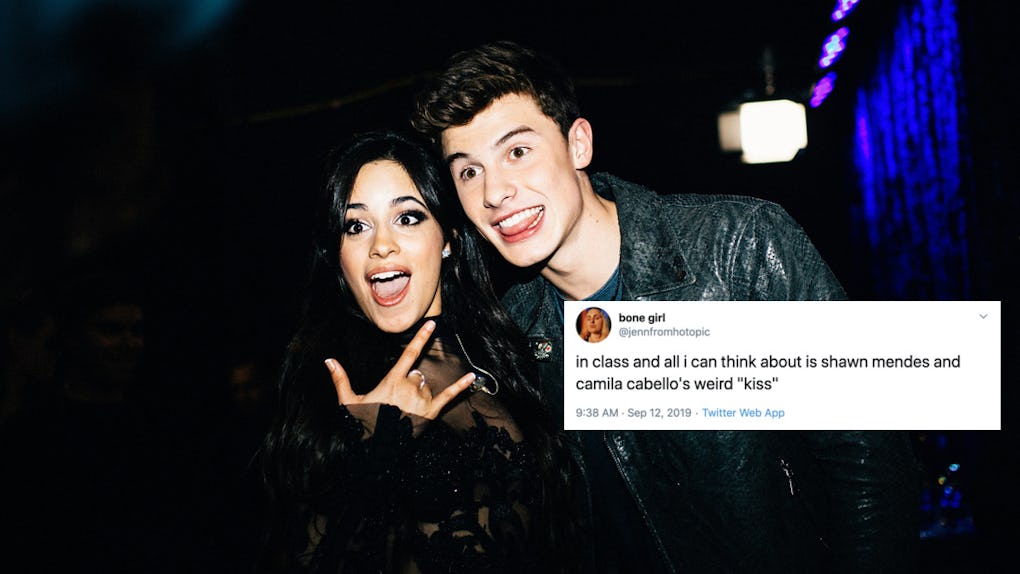 Getty Images/Twitter @jennfromhotopic
15 Tweets About Shawn Mendes & Camila Cabello's Kiss On Instagram Prove Everyone's Like, "WHAT!"
If you still haven't quite processed what you saw after watching a certain pop star's Instagram video that may or may not have rocked fans to their core on Sept. 11, 2019, the tweets about Shawn Mendes and Camila Cabello's kiss on Instagram may help you really sort through your feelings. For those of you who don't know what I'm referring to, Mendes posted an absolutely bonkers video of himself and Cabello going to town on each other's faces in a kiss.
"So, we saw — like on Twitter and stuff — you guys saying stuff about the way we're kissing and how it looks weird, like we kiss like fish," Mendes began in the video. At that point, Cabello chimed in to say, "Yeah, really hurt our feelings." Then, Mendes concludes the dialogue portion of the video to let us know they're about to show us how they "really kiss."
Finally, something absolutely outlandish happens. They lean in for what innocent fans may have thought was just going to be a kiss, but instead start — and there's truly no better way to describe this — all but eating each other's faces. No, seriously. You can watch it for yourself here:
Obvi, based on the fact that the video literally concludes with Cabello LOL-ing so hard that Mendes has to stop recording, we know it was just a joke. But fans are still shook. And they had to turn to Twitter to get their feelings out.