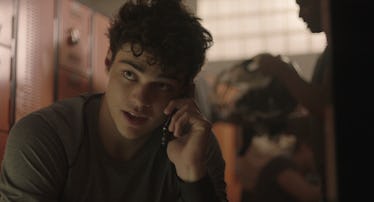 15 Tweets About Noah Centineo In 'Sierra Burgess Is A Loser' That Will Make You Say "SAME"
NETFLIX
One of the kings of summer 2018 rom-coms is back to steal America's hearts. Noah Centineo, the actor who won pretty much every Netflix subscriber over as the charismatic Peter Kavinsky in All The Boys I've Loved Before, has a new role that will make you fall in love with him all over again. Sierra Burgess Is a Loser debuted Friday, Sept. 7 and fans are already obsessing over his winning performance. Need proof? These 15 tweets about Noah Centineo in Sierra Burgesss Is a Loser will make you #TeamJamey for life.
It's cool if you're #TeamPeter too. I get it. Peter Kavinsky became one of the most buzzed-about teen movie love interests in recent history for a handful of valid reasons — he's sweet, charming, funny, and knows how to respect a bowl of popcorn. Peter — and subsequently the actor behind him, Noah — have become phenomenons since To All The Boys I've Loved Before's release took pop culture by storm. Now audiences are making room in their hearts for another new romantic film favorite: Sierra Burgess Is a Loser. The Cyrano de Bergerac reimaniging centers on insecure high school brainiac Sierra (Shannon Purser) as she pretends to be a popular high school cheerleader (Kristine Froseth) in order to get closer to the object of her affection, a cute quarterback who's got more going on inside than meets the eye. That would be Noah Centineo's Jamey. As expected, Twitter is falling hard.
"I feel like everything that happens on the internet nowadays is so fleeting that, sure, maybe getting a Peter Kavinsky is a goal now, but I wouldn't be surprised if a week from now it really dies down," Centineo recently told Teen Vogue. Did he not consider the fact that getting a Jamey might be another big internet sensation? Even if he played a highly unlikeable jerk in his next film, it could be hard to shake the fandom. Nice guys finish first in the modern rom-com era, I guess?
Both Peter and Jamey are good-natured high school athletes who are hard to hate on, but they're each magnetic in their own ways. Noah weighed what sets them a part from one another in his eyes. He explained to TheYoungFolks:
Well, the difference, for sure is that Jamey in Sierra Burgess is far more intelligent. He's more soulful. He's not just concerned with his immediate world but thinks more globally while Peter K. is way more self-centered and egotistical, but I love both the characters. They both embody different types of young men but both are respectful, first and foremost.
Whatever draws you to Noah or his characters, he's obviously doing something right. The 22-year-old Florida native is prepping is set to star in Swiped and The Stand In later this year so get ready for even more collective crushing to commence.
Sierra Burgess Is a Loser is currently available to stream on Netflix.