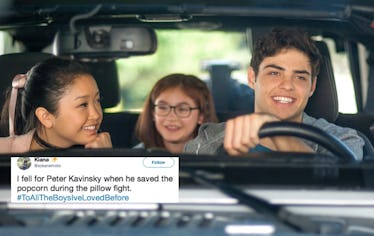 Fans On Twitter Are Losing It Over This Scene In 'To All The Boys I've Loved Before'
Netflix
If you've watched To All The Boys I've Loved Before more than once at this point, I don't blame you. And if you have a major crush on Peter Kavinsky, you are certainly not alone. The jock-turned-pretend-ish object of Lara Jean Covey's affection is quickly becoming many viewers' boyfriend in their head due to his adorable thoughtfulness. Case in point: That time he the moved popcorn. Notice the smooth move? These tweets about the popcorn scene in To All The Boys I've Loved Before will show you the power of #TeamPeter.
Netflix's To All The Boys I've Loved Before finds 16-year-old Lara Jean Covey caught in a serious social dilemma when her private love letters get sent out to the all the guys she's fallen for through the years. Unfortunately, she never intended to mail them. Attempting to stop her romantic secrets from further being exposed — her actual crush just happens to be her older sister's ex-boyfriend — she makes a deal to fake date the popular Peter, who benefits from the pact by making his ex jealous.
Peter (played by Noah Centineo, who you may recognize from The Fosters or Camila Cabello's "Havana" video) has definitely won over the hearts of audiences since To All The Boys I've Loved Before's Aug. 17 release. One blink-and-you'll-miss-it-moment caught the eyes of #TeamPeter devotees — Peter's popcorn-salvaging save prior to a pillow fight in a scene between him, Lara Jean, and Lara Jean's younger sister Kitty when they're watching 16 Candles. It's a sweet window into the mind of the sensitive heatthrob character. And Twitter knows what's up.
Ah, it truly is the little things, right?! Protecting snacks really makes people swoon. But maybe fans don't just have the character of Peter to thank for the considerate movement. Noah Centineo actually decided to preserve the popcorn on his own — the move wasn't in the script.
"To All The Boys I've Loved Before Fun Fact: It wasn't scripted for Peter to move the popcorn — @noahcent improvised that in the moment!," Netflix's See What's Next Twitter account shared on Wednesday.
By the way, Noah is just as big of a fan of his character as you are. "He really just needs that love and support, and he's just such a human character, and I really enjoy being able to play that," Centineo revealed to Teen Vogue.
Even though the To All The Boys I've Loved Before is part of a trilogy of books and the film has potential for a sequel, right now star Lana Condor is all about Kavinsky. The actress beyind Lara Jean explained to Vulture:
Me personally? Team Peter, Team Peter. See, here's the thing: Team Josh is your safe bet. But Peter, in the long run, will provide excitement. I think in a relationship, safety is always great, but in a long-term relationship, something that will withstand time, being excited and being stimulated is very important. So I think I would get more of that from Peter.
Peter's appeal extends beyond his popcorn-rescuing ways, but the astute action definitely didn't hurt.
To All The Boys I've Loved Before is currently streaming on Netflix.