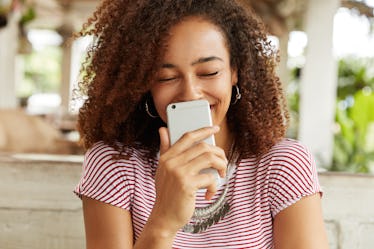 Warm Your Fire Sign Partner's Heart With These 15 Sweet Texts
The three fire signs, aka Aries, Leo, and Sagittarius, are known for being warm-hearted, affectionate, and open to getting a little bit mushy. So, having a few texts to send your fire sign partner that will make them smile can be a great way to keep the passion burning when you are apart.
When crafting a text to send to a fire sign, consider all the traits and characteristics that make them special. Not only are they loving and all-consuming in the bedroom, but these signs also have a natural optimism and excitement for life. Letting them know that you recognize and appreciate all of those qualities in them will very likely touch their hearts. After all, being seen by the people we love can be one of the best feelings in the world. And by taking their zodiac element into mind, you can begin to focus on who they are at their core.
So, if you're feeling the love and you want them to know it, you don't have to wait until you're face to face. Nope, you can tell them just how much they're in your heart and on your mind with one of the following 15 sweet texts.