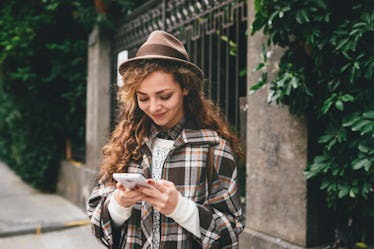 15 Texts To Send A Leo During Leo Season, To Make Them Feel Special
Good news, folks: Mercury is finally out of retrograde (whew, we made it!) and Leo season is officially here. That little bit of extra energy and swagger you're feeling? You can thank Leo season for that, because from July 23 to Aug. 23, we all get a little bit of extra pep in our step — as well as a boost in creativity. Leos are really going to be living their best lives this month, so it's a good time to have a few texts to send a Leo during Leo season to let your lover know they have the lion's share of your heart.
To be honest, your partner will probably appreciate these texts year-round, as there is nothing they like and need more than to know that the people they care for are just as crazy about them too. (Classic Lion.) So, fire up those texting fingers, because we're about to celebrate the season just how your Leo will enjoy it most: By making it all about them and how incredible and special they know (and you know) they are. Need a little textual inspiration? No worries, I've got plenty of ideas to get you started. These texts will have them roaring for your love in no time.