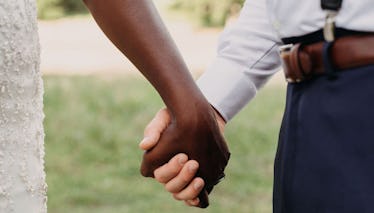 15 Song Lyrics About Marriage That Will Seriously Make You Ugly Cry
One of the coolest things about music is that there is no limit to what songs can be about. From the blissfully happy moments, to the daily struggles, to sticking it to the man — music can touch on it all. But because love is so universal, it can feel like most of the songs we hear today are about love, sex, and relationships. There are literally thousands of song lyrics that often ring true to any stage of a relationship, including song lyrics about marriage. Regardless of whether you've said "I do," are engaged, simply admire the concept of marriage, or aren't even necessarily interested in getting married — song lyrics about marriage almost always have the potential to pull at your heartstrings.
It's important to remember that marriage isn't for everyone, even though sometimes, society makes us feel like it's mandatory. If you found someone you want to spend the rest of your life with but not necessarily marry, there's no law that says you can't co-habitate or be together forever. And if you don't like the idea of being with one person forever, there's no rule that says you have to be! There are no requirements when it comes to how you want to live your life. But whether or not marriage is for you, if you're in the mood for some sweet, tear-jerking, heartfelt lyrics, read on and embrace the feels.
1. "We've been together since way back when. Sometimes I never want to see you again. But I want you to know, after all these years. You're still the one I want whisperin' in my ear." — The Orleans, "Still The One"
2. "Where life's river flows, no one really knows, 'til someone's there to show the way to lasting love. Like the sun that shines, endlessly it shines. You always will be mine. It's everlasting love." — Carl Carlton, "Everlasting Love"
3. "When my hair's all but gone and my memory fades, and the crowds don't remember my name. When my hands don't play the strings the same way, mm, I know you will still love me the same." — Ed Sheeran, "Thinking Out Loud"
4. "How long will I love you, as long as stars are above you, and longer if I can." — Ellie Goulding, "How Long Will I Love You"
5. "Well I was crazy about you then and now. The craziest thing of all is over ten years have gone by, and you're still mine." — Jack Johnson, "Do You Remember?"
6. "And I will take you in my arms, and hold you right where you belong til' the day my life is through. This I promise you." — N'Sync, "This I Promise You"
7. "And we'll build this love from the ground up, now 'til forever it's all of me, all of you, just take my hand, and I'll be the man your dad hoped that I'd be." — Dan + Shay, "From The Ground Up"
8. "Well, I won't give up on us, even if the skies get rough. I'm giving you all my love. I'm still looking up." — Jason Mraz, "I Won't Give Up"
9. "Forever can never be long enough for me to feel like I've had long enough with you." — Train, "Marry Me"
10. "105 is the number that comes to my head when I think of all the years I wanna be with you. Wake up every morning with you in my bed, that's precisely what I plan to do." — Jason Derulo, "Marry You"
11. "Sharing horizons that are new to us, watching the signs along the way, talkin' it over, just the two of us, workin' together day to day." — The Carpenters, "We've Only Just Begun"
12. "I fall in love all over, every time I look at you. And I don't know where I'd be without you here with me. Life with you makes perfect sense." — Tim McGraw, "My Best Friend"
13. "Have I told you lately that I love you? Have I told you there's no one else above you? Fill my heart with gladness, take away all my sadness, ease my troubles, that's what you do." — Rod Stewart, "Have I Told You Lately"
14. "I never wanted to be anybody's other half. I was happy stayin' out of love wouldn't last. That was the only way I knew til I met you." — Colbie Caillat, "I Do"
15. "My whole heart will be yours forever. This is a beautiful start to a lifelong love letter." — Sara Bareilles, "I Choose You"
If marriage is something you want at some point, these lyrics can serve as a glimpse of what you have to look forward to when you find ~the one~. But if the idea of marriage itself doesn't really appeal to you, these lyrics are still relatable AF because they're not just about saying "I do." They're about the ins and outs of loving relationships, which is still something that you may want without the technicalities of marriage. Everyone can enjoy beautiful music about sweet love, regardless of relationship status, and they should! So go make yourself a Spotify playlist and roll the windows down.