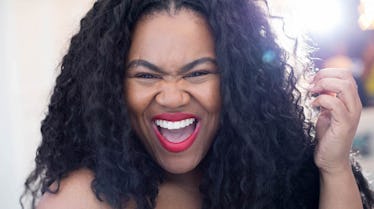 15 Funny Memes About Dating That Are Too Real & Will Lowkey Make You Want To Cry
Ashley Batz/Bustle
Dating can be a lot of fun. You meet new people, have new experiences, and maybe even indulge in a little romance. Also, sex. But it can also be extremely frustrating, confusing, and discouraging at times. Thankfully, sometimes the best remedy for a tough situation is laughter, and laughing at the absurdity of dating is pretty much the best. There are so many hilarious memes about dating that really capture the struggle, because let's be honest: Sometimes, finding love is no joke.
What makes memes so amazing is that they can, in a few words or a photo, capture the most complex feelings. When you read them you can't help but feel like, "Same!" But memes can also make the hard parts of looking for love feel a little bit easier, because you know at least one other person has been through the same dating trials and tribulations you have. Memes bring us together and help us laugh through the tears.
So, check out these memes that really do get to the heart of what it feels like to be actively (or, ahem, maybe not so actively) dating, and share them with your friends who you know can totally identify with them, too.