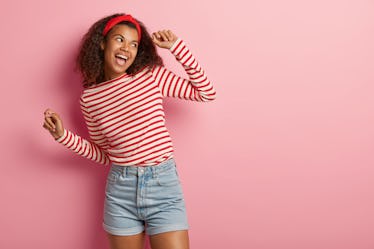 15 Funny Instagram Captions To Use When You're Single As A Pringle
Shutterstock
Whether you're focusing on being self-partnered or looking for your next fling, living life as a single icon can be super liberating. You don't have to worry about sharing your Totino's pizza rolls, and you can spread out like a starfish in your bed — the possibilities are endless. Being on your own can be a great way to discover new things about yourself, grow as a person, and maybe post a few saucy IG pics along the way. Gas yourself up with some funny Instagram captions to use when you're single.
Maybe you went through a bad breakup, you haven't had the best luck on dating apps (like me), or you've just been too preoccupied with other parts of your life to care about being in a relationship. No matter how you came to be a single Pringle, it can sometimes be tough considering how much societal pressure there is around being cuffed. In order to tune out that noise, it's important to routinely hype yourself up. To help you focus on the fact that you're killing it without a SO, check out these fun Instagram captions that celebrate being single.
Scrubs? That's a no from me.
'Mirror, mirror on the wall, don't say it, 'cause I know I'm cute' — Lizzo
Hosting an anti-cuffing party: no cover, BYOIC (bring your own ice cream) and leave your exes at the door.
Currently accepting applications for someone to ruin my life, serious inquiries only.
Hobbies include: being single, leaving f*ckbois on read, and gassing myself up.
Things I'm out of: your league, this world.
Catch meals, not feels.
Hot and unbothered.
Relationship status: In a committed partnership with Hint of Lime Tostitos.
My ideal partner: blonde, loyal, playful, good at basketball, has four legs, is Air Bud.
Single, but make it fashion.
'I keep dancing on my own' — Robyn
Do you believe in life after love? Because I do!
I'm doing amazing sweetie
Being in a relationship is cool and all, but have you ever been able to eat an entire family-size bag of chips and not have to worry about sharing them?